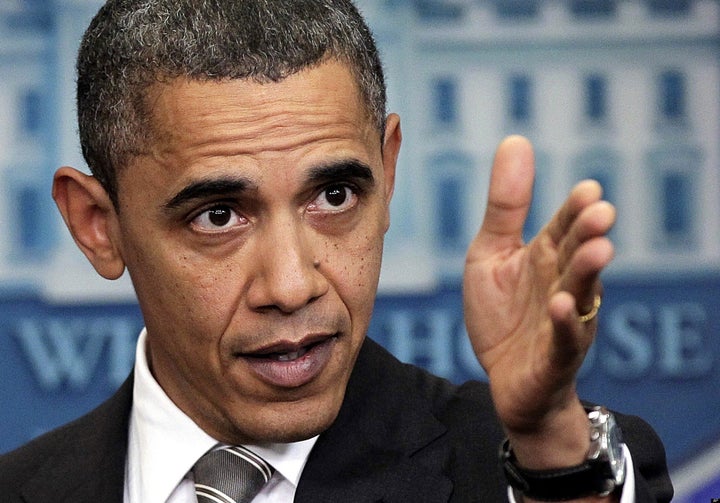 WASHINGTON -- Perhaps the one element of President Obama's budget proposal that pleased progressives the most was the one that didn't actually make it into the final language.
Unveiled on Monday, the budget offered no major changes to Social Security, such as those put forth by the president's deficit commission. In fact, the six principles for alterations in the document's language included no benefit cuts of any kind.
Asked about the absence of those specific entitlement reforms during a conference call Monday evening, White House senior adviser David Plouffe appeared to even further confirm Obama's opposition to drastic alterations.
"[A]s the President said in his State of the Union, he views Social Security primarily as an issue about shoring it up for the long term as opposed to a deficit issue," Plouffe said. "And we talked a lot about this as far back as the campaign, but are very clear that if there are proposals out there that are acceptable, that don't reduce benefits, don't slash benefits, that don't affect current retirees, the President is open to proposals that would shore the system up in the long term."
Plouffe's inclusion of the word "reduce" alongside the pledge not to "slash" may have been an innocent rhetorical addition to a common administration talking point -- one used several weeks ago during the State of the Union address. But for advocates working to make current benefits sacrosanct and fretting that the White House had left the door open to either cost of living adjustments or other benefit "tweaks," it was noteworthy.
"Until now, Sen. Harry Reid was the top Democratic leader on the record saying that cuts to Social Security benefits were off the table in any form -- big or small, slash or tweak," said Adam Green, co-founder of the Progressive Change Campaign Committee. "If Mr. Plouffe's words are true -- that the White House opposes all reductions in benefits for current beneficiaries and future ones alike -- it's huge news. Such a position is overwhelmingly popular with Democratic, Independent, and Republican voters alike, and is the kind of boldness Democrats will need to show to win big in 2012."
Even before the rare PCCC applause for an Obama administration motive, other progressive groups expressed encouragement over how the president approached Social Security in his budget. The Strengthen Social Security Campaign, a coalition of predominantly Democratic-oriented groups, put out a statement Monday night applauding the president both for "refraining from proposing" cuts and proposing an increase in Social Security Administration expenditures, which could be used to help with the backlog in disability determinations.
"Our coalition... is pleased that the President has made and kept a promise to not cut Social Security benefits or raise the retirement age in his 2012 budget, ," said Eric Kingson, co-chair of the Strengthen Social Security Campaign. "We applaud his efforts to seek solutions for our struggling economy while keeping our nation's most successful and popular program intact."

Popular in the Community