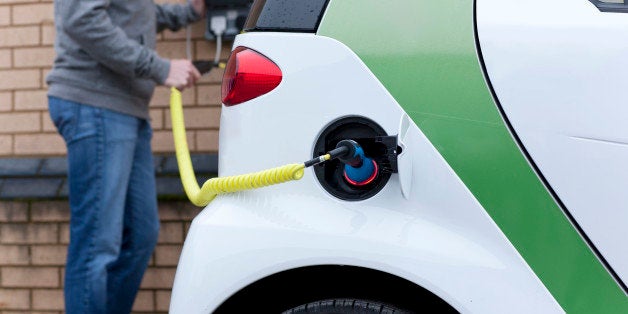 Washington, D.C. is home to some of the most important and heated debates of our time. This weekend we'll also gather throughout our community for another reason: to celebrate National Plug In Day.
You may have noticed that people who drive plug in electrics can't help smiling about it. We're celebrating Plug In Day because these new vehicles are so much better and we want to share the news.
The events throughout suburban Maryland and Northern Virginia promise to be some of the largest out of many planned across the U.S.
My own journey to purchasing an electric vehicle began about a year ago. Even though the name of our group is a nod to the well-known Volt, I ultimately decided to purchase a Ford Fusion Energi Titanium. I stand 6'5" so I needed more room behind the driver's seat than others might; that's why this model was a perfect fit.
I'm now commuting about 22.5 miles to work, one way, all on electricity. I commute home in hybrid mode. I average 85 miles per gallon. This could even be higher if I could plug in where I park during the day. I drive every other week, so I fill my tank about once a month. I haven't seen a dramatic increase in my electricity bill, but I will be doing a full review next March.
This weekend, I can't wait to share with those at the event what it's like to incorporate a plug-in vehicle into a driving routine. We're going to hold electric car rallies, "tailpipe-free" tailgate parties, recognize businesses promoting EVs and celebrate new public EV charging stations. There will also be opportunities for test drives.
We're going to answer questions about charging at home and away from home at charging stations. We'll showcase how plug-in vehicles save money and connect to renewable energy sources such as solar and wind to become truly zero emission vehicles.
Thousands of drivers across the country are now experiencing the reality of these exciting, new plug in electric vehicles -- cars, motorcycles, trucks -- you name it.
Each celebration event will be led by local plug in drivers and advocates and will include some combination of EV parades, ride-and-drives, electric tailgate parties, press conferences, award ceremonies, informational booths and more. Plug In America, Sierra Club, and the Electric Auto Association serve as the national team providing support to the events throughout the country.
Here are the top reasons we'll be gathering for National Plug In Day:
Cheaper to fuel. Imagine paying the equivalent of about .75 per gallon of gas and almost nothing for maintenance or repairs.
More fun to drive. They go everywhere and accelerate like a rocket.
Cleaner. Less gas means less pollution, even when taking into account pollution from electricity used to charge nearly all EVs in nearly all locations.
Freedom from oil. Each year in the U.S. we burn roughly 121 billion gallons of oil in our passenger cars and trucks. That means we're spending about1 billion a day on imported oil. Enough!
These new vehicles are changing America. Thousands of American workers in at least 20 states are building EVs and other advanced vehicles and components. Momentum is growing -- more than three times the number of plug in electrics have been sold than new hybrid cars at the same point after their introduction.
You can learn more about the events in the D.C. area and other places here: www.pluginday.org
No matter how you get there, I hope you join us to learn more about how to plug in going forward.
Czajka leads MD Volt, a nonprofit educational group of over 150 members who promote electric vehicles and charging stations online and through events.
Related
Popular in the Community