You may not have thought there'd be reason to give the dress any thought at all.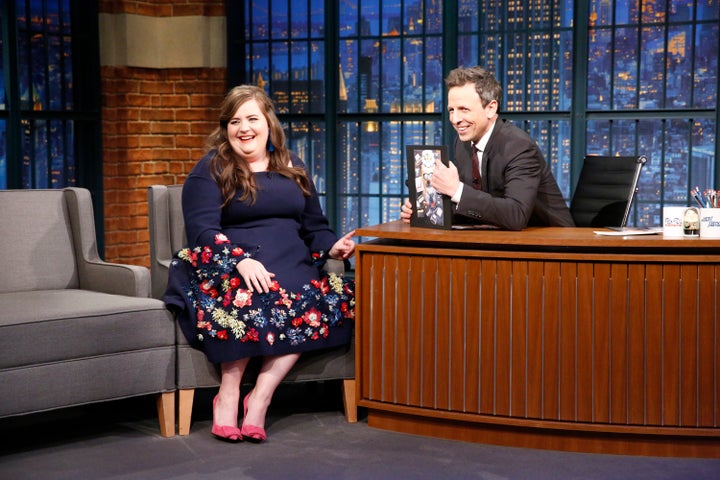 It's a beautiful dress, and Taylor is a fabulous designer ― her wares have been worn by the likes of Michelle Obama and Olivia Munn. This story is one we've heard before: an actress above a certain size reveals designers aren't working with her, someone swoops in to create an amazing look, and we all celebrate said designer.
But there's something awry about this scenario, and some others like it. Taylor, who actually does not design clothes above size 14, is being revered here for stepping up to the "challenge" of dressing a size 18 woman for a special occasion. And she says she refrains from broadening her typical size offerings because her retailers "only buy up to a size 12."
If it's even true that the retailers aren't buying larger sizes, that notion hasn't stopped, say, Christian Siriano from getting his label in stores above a size 14, which Glamour reports in the same story. It also contrasts starkly with numbers put out there from extended-size retailers like Eloquii, which Fashionista reported in 2016 saw a growth in volume of 165 percent in the previous year, with unconfirmed sales at $20 million.
In a piece for The Washington Post back in Sept. 2016, Tim Gunn echoed the sentiment of women who have ever tried shopping in a department store for something stylish, stating that shopping over a size 14 is "a horribly insulting and demoralizing experience," despite the fact that an estimated 67 percent of women in the United States are plus-size.
Even Bryant said in the Glamour interview that she brings "at least six options" to any given photoshoot, recalling a shoot she did with co-stars Kate McKinnon and Cecily Strong when she first got hired on "SNL" in which "there were just three things on my rolling rack ― each something like what an 80 year-old woman would wear to sing at a funeral. I was paralyzed."
Taylor herself then, of course, is not the only problem. Plenty of designers have created dresses for celebrities in sizes they don't carry. Brands are guilty of using models in sizes they don't carry to sell clothes. But there is an issue in the constant blame game ― designers blaming retailers or money restraints for straying away from designing clothes in extended sizes. If a designer really wants to put their money (literally) where their mouth is, perhaps it's time to consider the numbers listed above.
In a statement to The Huffington Post after the initial publication of this story, Taylor expressed that working with Bryant on Glamour's project "only strengthened our desire to move into the space. To coincide, we're thrilled to announce that we will be launching select styles in plus size with our pre-fall collection."
This article has been updated to include comment from Tanya Taylor.