So we spoke to Chrystal Bougon, owner of one of those few stores, Curvy Girl Lingerie. At size 22 with a background in the adult toy business, Chrystal knew that curvier women wanted to dress as sexily as size 2 women but simply don't have the options. So we asked the entrepreneur about the state of the plus-size world today -- the good, the bad and the promising.
Interview has been condensed and edited.
HuffPost: I was really excited to see what you're doing, mainly because I feel like we've been hearing so much about plus-size lately. Do you feel like there's some sort of cresting happening in the industry right now?
Chrystal Bougon: Yeah, it's crazy. At first I thought it was just because I was sensitive to the word, so I was seeing a lot of it in the media, and I saw it on a lot of sites that aren't what I would call mainstream. But it's also been in the mainstream media, like "Good Morning America" and "The View." I'm like, wow -- when I started my store, I kind of felt like there was momentum. But now it's like wow, we're really in the middle of this really huge movement.
HuffPost: Do you think it has anything to do with larger trends, including talk of too-skinny models and eating disorders in the fashion industry, or do you think it was just about time?
CB: I think there are probably a lot of things at play there. But the average American woman is a size 14, so I think it was coming. Now larger people are more in command of what's being created, because we need more stuff! We need clothes, stuff that doesn't look like muumuus. We are such a huge part of the population.
HuffPost: Do you think all the talk we're hearing about plus-size is just hype or are we seeing real developments on the ground when it comes to mainstream retail?
CB: Well, I think that there are still not a lot of places for me to shop. I'm a size 20-22 and there are about three places I can shop in an actual store. You can buy stuff all over the place online, but when you're curvy, it's really hard to buy stuff online. And the different lingerie companies sell lingerie from all kinds of different manufacturers, but you don't know that when you're online. So I would order everything in my size, say 10 items, and then I would end up returning seven of them because seven of the 10 didn't fit.
So it's like the Wild Wild West out there as far as plus-sizes go, because curvy bodies are so different. Our curves are in all different places so it's tricky for a plus-size manufacturer to find patterns for everybody. Everybody who is a size 20 doesn't look the same. Some of us have big booties, some of us have big boobs... I just think really it's a big thing, because there are so many more of us, and we're demanding that we get paid attention to and we don't want to hide anymore. We don't want to just wear muumuus and caftans and big color-block things that you can find at Walmart. We want to look sexy and we want to look relevant and cute. We're not going to hide. We're done hiding.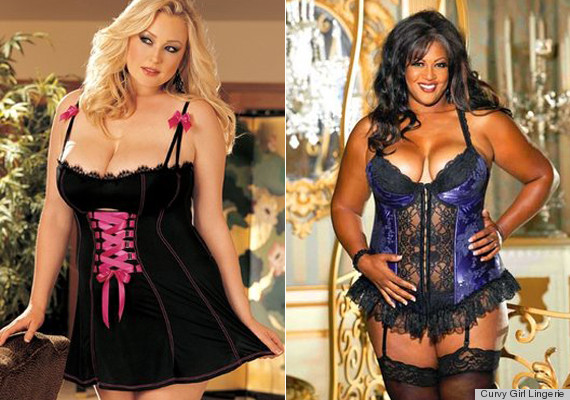 HuffPost: Do you think it's a lack of knowledge for how to design for curvy bodies, or are there also misconceptions about what plus-size women want to even wear?
CB: Yes, exactly. I think a lot of manufacturers assume that we don't want to draw attention to our bodies, and it turns out that a lot of us want to. We want to show off our curves and our big butts and our big boobs, and we're proud of it. We're not trying to find things to minimize the curves. We're not trying to find black. Honestly, my store has been open for nine months and I only sell plus-size lingerie that's extremely revealing and sometimes kind of, well, slutty. And my customers are dying for it. I'm ordering twice a week now -- in nine months, it's been mind-boggling. We're tired of hiding behind all that ugly crap that all the manufacturers have been making us. Life is too short for ugly underwear and ugly clothes!
HuffPost: Absolutely. And the big boobs thing is universal -- any bra above a C tends to be really ugly.
CB: Yeah, I know. Big beige bras with big straps and hooks. Your boyfriend has to take 20 minutes to take it off you, and it's hideous. I'm so over it.
HuffPost: So why did you specifically start with lingerie?
CB: I've actually been in a romance toy business for the last 10 years, and through that I met thousands of thousands of women here in the Silicon Valley. When I was doing my home parties all of the years, I got to hear from all kinds of women, and they would see me in front of the group, a very big five-foot-seven plus-size woman talking about how to have hot sex and enjoy all the pleasures your body's capable of. Then after the party, they would come to talk to me and they would say, "Where do you get your confidence? Where do you get your sexy clothes? You have a great sex life -- how do you find this stuff?" And I would say, "Girl, I scour everywhere for things. Sometimes I'll even buy small stuff and try to make it stretch." I mean, I would sew two things together; I would do whatever it took to find something sexy to wear in my bedroom.
I started to notice that my curvy customers were very loyal. They would come back to me through email and my newsletter, and they're like, "Chrystal, I really need a corset for my wedding. I don't know where to buy it. I'm a size 24." Or, "Chrystal, I need a really sexy strapless dress." So they were looking to me to be a resource. Because I was out there, living out loud -- I'm really into having great sex, and nobody hears fat people talk about having a great sex life.
HuffPost: When you're marketing and strategizing, are you taking any sort of cues from the more mainstream lingerie brands like Victoria's Secret?
CB: No. Victoria's Secret's target demographic is women from 14 to to 24. Like, your body's not even fully grown until you're 25. I'm going after married women who are over 35 who have had their babies, and their bodies have been through it all, they've been through it all with their marriage and their life and their jobs, and now they're ready to step into their own sexiness and they're not afraid to just rock it. Whereas when you're younger, at least for me, I wasn't quite ready to be super-sexy outside of my bedroom. I gained more body confidence as I got older. So I totally ignore Victoria's Secret. It has nothing to do with what I do.
HuffPost: Do you feel like body confidence is still an issue? It sounds like a lot of your customers are people who are totally ready to embrace their bodies and be really proud of the curves they have, but at the same time, we live in a culture where the standard for beauty is synonymous with being skinny. Do you think the problem of low self-esteem is getting better?
CB: It's getting a little bit better. But we do a lot of hand holding and a lot of cheerleading here. We provide a lot of personal service, since we're here to be the experts on what is going to enhance your body. Pretty much everyone who walks through my door hates their tummy, and I have to say that's pretty true of a lot of women, whether they're curvy or not. And everybody is like, "OK, I really want to do this for my man or my girl but I just want to cover my lower tummy." So we have all kinds of styles that do that, like these teddies that have lace that covers your tummy but the boobs are cut out and it's crotchless, so you can keep your tummy covered but access all of the goodies.
Honestly, the sexiest out there is confidence and so if we can find the right piece for the right person, and she's going to feel really confident in it, that's going to exude the confidence and she's going to tell her husband, "Tonight's the night."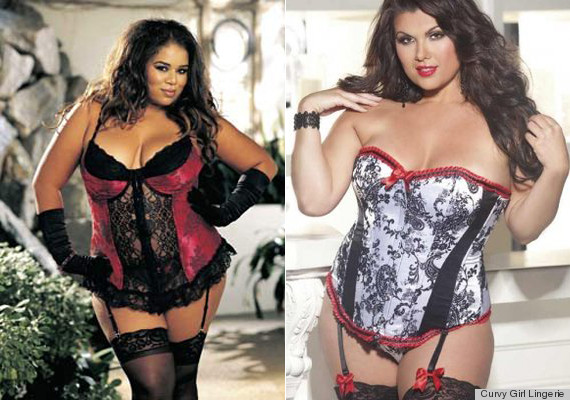 HuffPost: Do you have any specific role models, celebrities or models, who are demonstrating great body confidence for curvier women?
CB: I think Melissa McCarthy's a great example of someone who's just living... I hate to say this, but "balls out." In all her movies, she's just so unapologetic about her size. She's beautiful and she's funny and she will do anything for a laugh, and to me, that's so inspiring. Oprah is a great example of somebody who has always been curvy her whole life -- even when she's thinner, she's still curvy. And Adele is a great example of a musician. Everybody in the plus-size world follows her fashion when she goes to the Grammys and stuff like that. So they're starting to be more on TV -- not a lot, but on movies and television there are certainly a few. It's getting better.
HuffPost: Do you feel like the fashion industry is moving forward? Or do you feel like it's stagnant and hasn't caught up with where real American women are?
CB: No, I try really hard to stay away from [fashion magazines]. But I see them at the nail shop, and pretty much all of them talk about diets and "how to lose 10 pounds in 10 days" and it just makes me want to cry, all the damage we do to all those young girls out there who think you have to be on a diet at the age of five. I just can't take it, I can't watch it, it just breaks my heart. I see all the covers, and I don't really see anybody over a size 4 on any magazine. So it doesn't seem like that world has caught up with us yet.
But they are going to have to hear from us soon. They are going to have to be prepared soon because, I'm telling you, there's such a crazy movement going on, it's intense. And right now, there are only two plus-size lingerie stores in the whole country.
HuffPost: What do you think is going to take it to the next step? On the one hand, the fashion industry really lags behind lots of retailers, but on the other hand, your suppliers and other retailers are clearly seeing that this is blowing up.
CB: I definitely want to expand. I keep getting requests from people who want to license or franchise my business and open up in other cities. And there's got to be more coming soon, I'm sure, especially when people see who we are, and the other plus-size lingerie store, Lovelies, in Pennsylvania. Did you know that Fredericks pulled all their plus-size items from their stores about five years ago. And I was like, "Well, that's so ignorant. That's basically the opposite way the market's moving."
HuffPost: Do you feel like part of retailers' resistance is that, in spite of market research and the actual proof of financial success, companies like Abercrombie simply don't want plus-size clothing in stores because of "image" concerns?
CB: I think that's specific to Abercrombie. Most people are in the business to make money. And I don't think they're trying to be the "cool kids" like Abercrombie -- I mean, that is just so effing ridiculous. I just feel like there's a huge turn going on, and I'm so excited to be right in the middle of it. There's been so much activism and people doing stories; they're all over the blogosphere writing about plus-size fashion. I think stores like Lane Bryant and Torrid and Avenue have paved the way, because those stores were kicking butt even when the economy sucked. So people who are capitalists are going to take advantage of that opportunity and say, "Wow, we are really missing the boat here. We should really look at this untapped market, because it's a big market."
HuffPost: Absolutely. Just reading in the media every day, you can tell that there's something on the horizon.
CB: There is definitely a shift going on. I keep telling my curvies, "You guys, I think we're on the bleeding edge of this shift going on, and it feels like we might be a little bit in the eye of the storm." But it just feels like we won't know for a little while, you know? To be involved in the plus-size industry is super exciting.
Where curvy girls can find trendy clothes: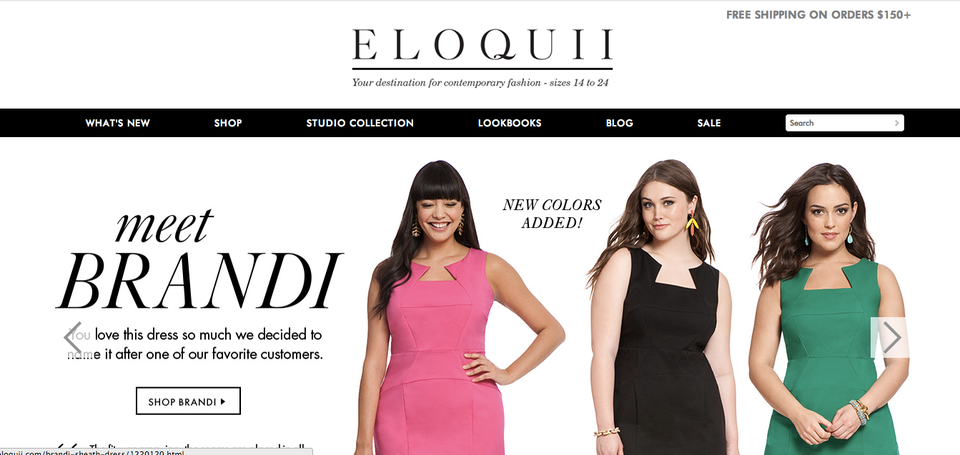 Best Stores For Plus-Sized Gals
CORRECTION: A previous version of this article stated that there are only two plus-size lingerie retailers in the U.S. This is not the case.
Related