The first thing my friend asked me when she saw Glamour Magazine's June cover was, "Which one is the plus model?" When I pointed out Crystal Renn on the left she said, "But if those girls are skinny models what is she, like, size 8?"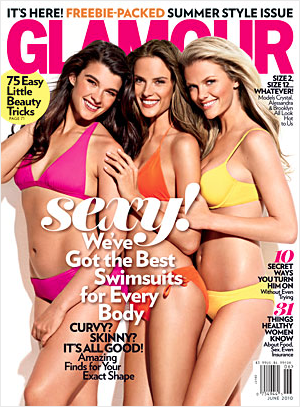 Plus models and dress sizes. The common response when I state my job is, "But you're not plus! What size are you?" Maybe a better question is: what size are we supposed to be? What do we expect a "plus" model to look like? The photos in Glamour are beautiful, and they go on to feature a chart of flattering bathing suits for all shapes and sizes. An effort unthinkable even a few years ago, one that would have changed my own adolescence. As someone who was never thin, who earns her living as a curvy woman, but who was also devastated by the loss of an aunt to weight-related health complications, I am acutely aware of the need for a public spectrum that celebrates a wide range of body types and also encourages personal responsibility and healthy lifestyles.
"Plus" modeling has never received so much attention. It began as an opportunity for agencies to fill a niche in the size 14-24 market. Models sized 14-16 were sometimes expected to do their hair and makeup. Today it's so much more. We have become politicized spokeswomen for a growing consciousness that gains attention and urgency. Partly because of the persistent, gaping hole in media where the size 6-8 used to be, partly because women average a size 14. But it is not just about fashion, advertising, or media representation. It's also about health, diet, role models, and responsible imaging. And it doesn't end there. Ultimately it's about Beauty. Of the female kind. Any one of these issues is a hot button; the last is a sucker punch.
We plus models, ranging between a size 8-16, are expected to look relatively young, tall, charismatic, confident, well-proportioned, beautiful and, of course, photogenic. This list is identical to the expectations of straight-sized models (yes, "straight" and it's normative references). The measurements are larger, but the job is exactly the same. Minus the label. While the banner of plus can empower and celebrate a community, many plus models question that term professionally. In the fashion industry and modeling specifically, it carries negative connotations of "less than," not as "real" as a smaller model. They introduce themselves as models first, explaining their market.
Three experiences recently confirmed that the label fosters disregard. The first was watching a popular sitcom, in which one character put down his boss when he claimed to know models with the response, "Yeah, plus models maybe." The second was a commercial in which a boardroom discusses possible terms for a "fat" wallet, "plus" is suggested and collectively frowned upon. The third was watching a round table discussion in which one well-known editor, when the issue models' health and size was raised, declared herself to be totally sick of the discussion of size in fashion and much more concerned with racial diversity on the runway.
She raised an interesting point: lack of physical diversity in fashion. Beverly Johnson was the first Black model on Vogue's cover in 1974. The number of Black women (or lack thereof) on the cover since the nineties has been noted. On the runway Black, Latina (not the light-skinned Brazilian variety) and Asian models (height is a lame stereotypical excuse) are still a rarity. There obviously needs to be a conscious shift here. Not just because it's responsible, but because it makes business, beauty, and fashion sense. People recognize this, and yet no agency in their right mind would start a division separating models by "Color".
"Black is Beautiful." "Big is Beautiful." Slogans necessary and empowering because "Beautiful" has been too narrow a definition. How do we redefine it? As long as plus modeling is a category, it is on the fringe and cannot transform entrenched mainstream practice. The norm remains the rule if the alternative remains the exception, easily dismissed and marginalized--like the model unconsidered for major beauty, cosmetic or hair campaigns in which bodies are not even on display, because she is labeled "plus."
Integrated representation is one step. How models are categorized has a huge ripple effect on what choices advertisers make and ultimately what the public see. There used to be the model, at a range of sizes, and she did everything. Now agency divisions divide model types. This specialization is what allows "runway" models to get ever thinner and younger in contrast to "commercial" models. It also limits creative potentials for agents. Runway, editorial, commercial, film/television divisions carry certain logic. But crossover is key. Every model wants representation in every division for every possible client. In the plus division, this is not the case. Even when booking editorial or runway, we remain branded instead of integrated.
Consumer response is also crucial. Overwhelming feedback got the ball rolling at Glamour. Most retailers feature customer reviews on product pages, tailoring their production to feedback. There is no Vogue without subscriptions. In this era it takes two minutes to click on the costumer service contact of your favorite retailer or magazine's website and ask them to feature more sizes in their content.
We want to look at beautiful images in magazines, and on some level we want to identify with that image of beauty, to feel it speaks to us. At the same time we want to feel good about ourselves in the mirror. In a responsible society the one can support the other by widening the circle of inclusion and integrating notions of beauty and health.