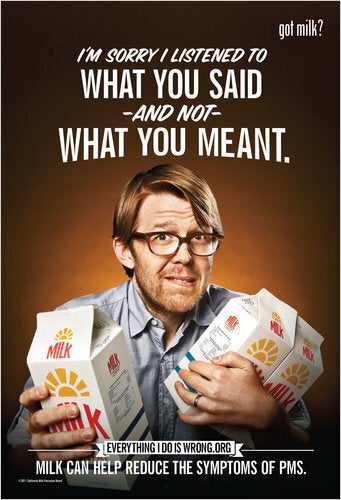 Thank goodness for the California Milk Processor Board's new ad campaign. Once a month, some women have this pesky thing called PMS that turns them into raging demons if their boyfriends dare look at them wrong, or even, as the campaign says, if their boyfriends don't read between the right lines. But, even a out of control female monster can now be placated, thanks to milk! Oh, glorious PMS-relieving milk! Both females and males should just take one giant calcium-enriched sigh of relief.
The Board's new ad campaign, conceived by creative agency Goodby, Silverstein & Partners is entitled "Everything I Do Is Wrong." It consists of several frightened-looking men holding cartons of milk as offerings for their better, angrier halves. Slogans include "I apologize for letting you misinterpret what I was saying," "I apologize for not reading between the right lines," "I'm sorry for the things--or things--I did or didn't do," "We can both blame myself" and "I'm sorry I listened to what you said and not what you meant."
In case the ads aren't enough, scared boyfriends can also visit EverythingIDoIsWrong.org, where they can check the current global PMS levels and monitor "key PMS indicators" such as cocoa futures, silver futures and gold futures. Because, obviously, when a woman is a PMS-ing psycho, chocolate (especially milk chocolate) and pricey jewelry make everything better.
Steve James, executive director of the milk board, told the New York Times that the "humor will allow people to laugh at themselves." Unfortunately, we women are too busy screaming at our boyfriends and craving milk chocolate to laugh along with whoever he's talking about.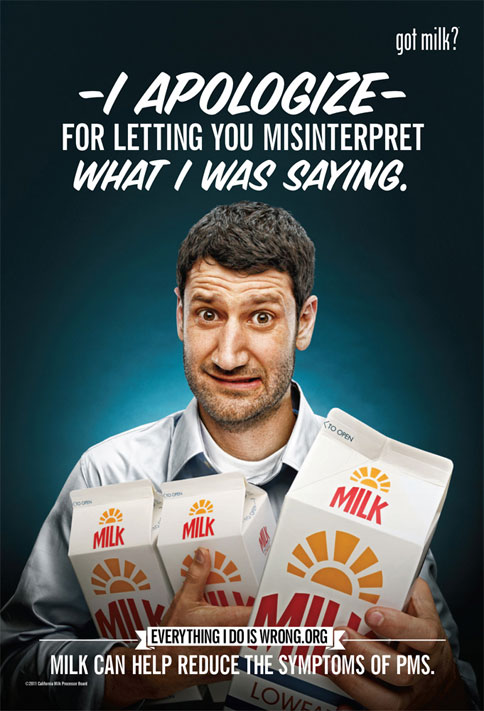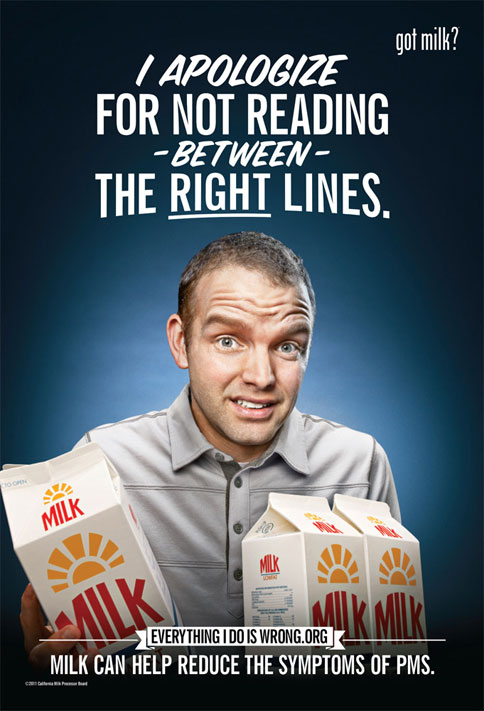 Popular in the Community