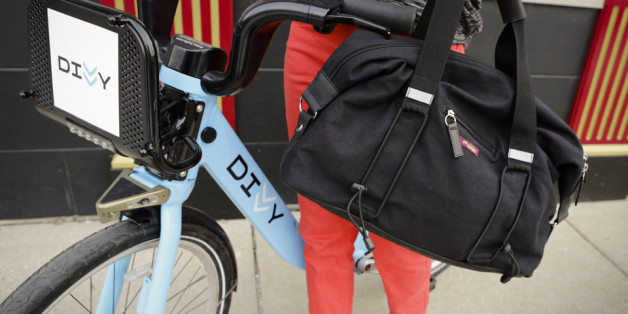 CHICAGO -- As bike sharing programs expand across the nation, users have an easier way to get from Point A to Point B. The only problem is, their belongings can't always come along for the ride.
That's why Maria Boustead, founder of the Chicago-based bike bag company Po Campo, created a game-changing new bag optimized for the popular Bixi bikes which comprise the fleets of bike share programs in cities like San Francisco, Washington, D.C., New York City, Toronto and Melbourne.
"From our perspective, a bag designed for bike share is terrific. I don't think it's been done before," Elliot Greenberger, the general manager of Chicago's Divvy Bikes, told The Huffington Post.
(See a preview of the bag in action below.)
Greenberger said the Windy City's growing bike share program has already become part of users' routines and habits, with cities like San Francisco and New York seeing similar demand.
Greenberger said the new bag, which will be available this summer, "makes it even easier for bike share to fit into your life."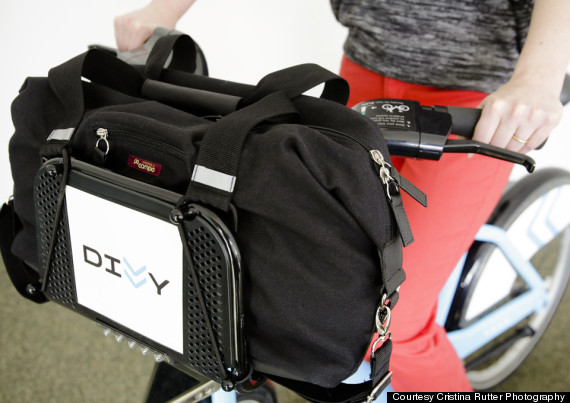 What didn't always fit, as Boustead found, were the items collected during the various errands for which bike shares are so well-suited.
"The first time I tried grocery shopping with Divvy, the apples I bought fell and were rolling all into the street," Boustead told The Huffington Post. "[The bikes] are good for impulse shopping, but there's really no where to put anything. The front rack was nice to have there — but it wasn't super useful."
The Bixi bikes are designed for ease and comfort with fenders, lights, chain guard and front rack. Absent is the rear rack for attaching bags commonly found on commuter-style bikes.
"What everyone defaults to is wearing their bags on their backs, which gives you problems like neck strain and back pain," Boustead said in explaining that comfort, utility and style are at the heart of her five-year-old company.
Before founding Po Campo in 2009, Boustead said most bike bags and accessories were limited to either "the messenger crowd or the spandex crowd."
But with city-dwellers increasingly opting for bikes over cars, demand for products like Po Campo that cross business-friendly casual wear with athletic wear has grown.
"More people are moving to cities," Boustead said. "They're trying to be more active, and this all plays into all of that."
Calling all HuffPost superfans!
Sign up for membership to become a founding member and help shape HuffPost's next chapter
BEFORE YOU GO
PHOTO GALLERY
Bixi Bikes Around The World