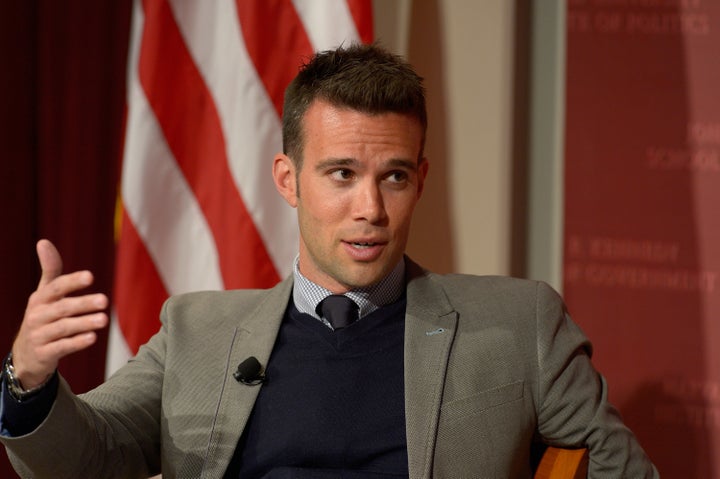 NEW YORK ― If Hillary Clinton had won, Tommy Vietor, Jon Favreau and Jon Lovett would have kept their day jobs. 
The three friends, all in their mid-30s and veterans of the Obama White House, had gone to the West Coast, where two started a consulting firm and the third wrote screenplays. Last year they dipped back into the campaign fray through an election-focused podcast, "Keepin' It 1600." The trio of political junkies got their fix with the part-time initiative, mixing it up with political operatives and Washington journalists.
Lovett, a former speechwriter for President Barack Obama, told The Huffington Post that they'd probably have continued doing the same thing if "everyone wasn't so horrifically wrong" about the presidential election. After Nov. 8, the same thing no longer felt like enough.
Now they're not only kicking off a new twice-weekly podcast, "Pod Save America," on Monday, but launching a company aimed at challenging Donald Trump's vision for America. They say that the company, Crooked Media, will also offer a politics website and later branch out with additional podcast series, videos and livestreamed events ― all with an emphasis on organizing listeners around issues and progressive causes. 
"I think the lesson for Democrats from Trump is that if you're solely filtering your message through the media, you've already lost," Vietor said in an email. "He has Breitbart and Twitter and he'll just swamp you. We need to do a better job of connecting directly and activating people."
Vietor, a former national security spokesman at the White House, and Favreau, Obama's former director of speechwriting, will give up the day-to-day running of their firm, Fenway Strategies. Lovett will also focus primarily on Crooked Media, although he said he still has some screenwriting projects in the works. Dan Pfeiffer, a former senior adviser to Obama and another member of the "Keepin' It 1600" cast, will co-host the Thursday episode of "Pod Save America," but isn't joining the company full-time.
Fans of "Keepin' It 1600" should expect a similarly freewheeling conversation about politics, though with less prognostication. Favreau apologized on that podcast's first post-election episode for telling people "not to panic and not to bed-wet" about the possibility of a Trump presidency. 
In interviews, Vietor, Favreau and Lovett vowed to avoid picking horses in future political horse races. 
"For all of our complaints about punditry, we sort of fell into the same traps," Lovett said. "It's a pretty alluring trap. We were talking about what would happen instead of what should happen."
Vietor described their mistake as shifting away from the Obama 2008 campaign's ethos of not getting bogged down in polls and punditry. 
"I was cocky and glib and cynical, and that's the opposite of how you get people to care about politics," he said. "So part of the mission here is to atone for that sin."
The Crooked Media founders said they haven't taken any outside funding for the launch and emphasized the bootstrapped nature of the startup. With Trump's inauguration less than two weeks away, they felt an urgency to get back into the political conversation even if all the pieces aren't in place yet.
"We don't want to over-promise right now since what this is is our podcast being independent and aspirations to do a whole lot more," Favreau said. ("Keepin' It 1600" was produced by the sports and culture site The Ringer.) Over time, Favreau said, he'd like people to turn to Crooked Media's site and stable of voices each day for a "no-bullshit conversation about politics." 
By sticking with a media project rather than returning to the campaign trenches, the former White House staffers will maintain their freedom to have an unfiltered public conversation. During the 2016 election, Politico noted that the group of "Obama bros" were in a position to "act as wingmen for Clinton's official spin shop — freer to drop bombs on Trump than her more constrained, chain-of-command-bound Brooklyn team."
Still, the "Pod Save America" crew don't consider themselves journalists, and they remain partisan. Their goal isn't to break news on the podcast or the website, but to engage and entertain an audience around politics and potentially steer those interested in doing more toward activism. 
"What I hope we can be, more than anything else, is honest and proactive and make politics feel important and accessible to people and focus on the stories that matter most," Vietor said. "That's really hard to do when you're trying to fill 24 hours of cable programming or when you have a huge newsroom that has to cover every story each day. But we want to step back and help people figure out what's important, what's bullshit, and what they can do about it."
REAL LIFE. REAL NEWS. REAL VOICES.
Help us tell more of the stories that matter from voices that too often remain unheard.
BEFORE YOU GO