GLAAD has joined 20 other LGBT and human rights organizations in urging President Obama to address the persecution of LGBT people. The criminalization of homosexuality in Jamaica dates back to the 1864 Offences Against the Person Act, which calls for a punishment of up to 10 years of hard labor for those convicted of the "abominable crime of buggery." In this episode, Nicholas is joined by Jamaican-born author and photographer and former US Navyman Max-Arthur Mantle, and Jamaican lawyer, LGBTI activist and educator Maurice Tomlinson, who himself has received death threats.
Mantle's new novel BATTY BWOY comes out April 15. Tomlinson is a Jamaican lawyer, LGBTI activist and educator. For nearly twenty years, he has been working with a variety of local and international agencies to combat homophobia and HIV across the Caribbean. He is a Senior Policy Analyst with the Canadian HIV/AIDS Legal Network and partners with various national and regional stakeholders to promote and protect the human rights of Caribbean LGBTI people
Check Out Current Events Podcasts at Blog Talk Radio with
NicholasSnowLive
on BlogTalkRadio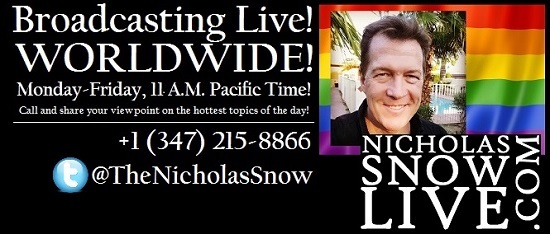 The new focus of Nicholas Snow Live, is the callers themselves! Monday through Friday at 11:00 a.m. Pacific Time, call (347) 215-8866 a few minutes before showtime (or during the broadcast) to comment on the hot topics of the day.
Over 1.7 million downloads in less than three years. The show's motto: "Connecting the Circuitry of Humanity."
Download Nicholas Snow Live podcasts for free from iTunes.
Like the official Nicholas Snow Live Facebook page here.
Popular in the Community