Most podcast listeners, if they know Greg Proops, know him as the host of The Smartest Man In The World. (Many also likely know him as a long time cast member of TV's Whose Line Is It Anyway.)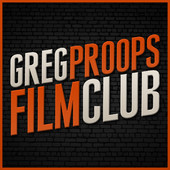 Since the beginning of this year, though, he's been pulling double duty. The Greg Proops Film Club is a monthly show, a sort of film companion if you will, featuring Proops in front of a live audience that has gathered to watch one of his favorite movies. The latest edition bookends a showing of The Man Who Would Be King, featuring Sean Connery and Michael Caine from 1975.
This is no dry dissertation however but, instead, finds the host reeling off anecdotes about the production (Rumor had it, for instance, that Humprey Bogart was slated to star in the movie a decade or more earlier but passed and the project lay dormant for years), memories about watching it for the first time as a teenager at a drive-in theater, and expounding on precisely why the movie holds so much cinematic goodness for him.
In much the same style as Smartest Man, Proops brings his engaging, rapid-fire intellect to the party, keeping the audience in stitches as he prepares them for a delectable silver screen experience. The show fades off as the movie begins and then fades back in as the film ends, leaving Proops to wrap up with a few more pithy remarks before sending the crowd, as he puts it, "off into this good night."
Popular in the Community