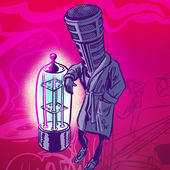 Normally I'd review a single episode of a new podcast but that's not happening this time around, because A Twilight World of Ultimate Smoothness is a 6-episode mini-series produced by David Wilcox which, like a series by Netflix, was released all at once a few weeks ago.
I binge-listened the whole thing, as each episode is part of a bizarrely funny connected story, and I wanted to take it all in. No spoilers here, but the show revolves around a radio personality, Greg Willis (voiced by Wilcox), who is the host of "the 11th most-listened-to, syndicated, smooth jazz/classic light R&B program on radio today," according to Twilight's homesite. There's so much music in and around the pieces of the story -- one man's weird fall from grace (ane terrestrial radio) that it feels like you're listening to a real station gone slightly mad.
I emailed Wilcox about the genesis of the show, and he wrote back, "we definitely wanted the show to *feel* like a real commercial FM station. Beyond that, we were heavily influenced by a show Chris Morris did on Radio One back in the late 90s called Blue Jam, which aired late Saturday nights/early Sunday mornings, and was a mix of comedy sketches and electronic/ambient music. Morris let songs play from beginning to end in between the skits, so it almost felt like a mixtape."
Wilcox's co-writer on the show is Johanna Hyman, as well as being one of the other main voice talents in the mini-series. Music is definitely a huge element in the show, as is the sound design, and both duties are handled by John Schmersal, a founding member of the band Enon and guitarist for Brainiac.
There are some great running elements in the show, like Willis' fixation on his "Robe And Slippers Cruise" promotion that proves to be his undoing, and his escalating feud with the station manager. There's a passing resemblance to Steve Coogan's Knowing Me, Knowing You with Alan Partridge BBC TV series from 1994, but this is a whole new treat for the podcasting medium.
Marc Hershon is the host and executive producer of Succotash, The Comedy Podcast Podcast, featuring clips from comedy podcasts from across the Internet as well as interviews with podcasters, comedians, and assorted show biz folk.
REAL LIFE. REAL NEWS. REAL VOICES.
Help us tell more of the stories that matter from voices that too often remain unheard.