A lot of comedians lay claim to the label "one of a kind" when it comes to their brand of humor, but few actually deliver. Bob Rubin is one of those who does, and likely one that you may not have heard too much about outside of the San Francisco comedy scene, where he spent most of his comedic development years.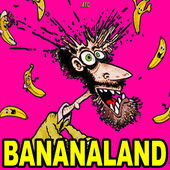 Now turning to podcasting as an additional outlet for his bombastic, nonsequitorial, stream of comedy consciousness, Rubin has found a home in Bananaland that does a dandy job of mostly containing it all. In the course of the current episode, he manages to reference arson, nicknames, lesser-known witches from The Wizard of Oz, collisions between universes and not one but two mentions of the Solar System's Kuiper Belt.
Oh, and an impression of late magician Doug Henning.
Helping to keep Rubin lightly tethered to reality is buddy Steve Rosenfield but make no mistake: Bananaland is firmly under the rule of the Ol' Rube. And in the half hour it takes to slurp down this episode, chances are you'll be wondering what Rubin's take is on many issues of the day, as well as who might be responsible for his day-to-day well-being.
Marc Hershon is the host and executive producer of Succotash, The Comedy Podcast Podcast, featuring clips from comedy podcasts from across the Internet as well as interviews with podcasters, comedians, and assorted show biz folk.
REAL LIFE. REAL NEWS. REAL VOICES.
Help us tell more of the stories that matter from voices that too often remain unheard.