Podcastland continues to amaze in many ways, including its ability to appeal to niche tastes on a gargantuan level. Did you know, for instance, there are over 15 different podcast series devoted - in some way, shape, or form - to Batman, the Caped Crusader? That number includes Star Trek vs. Batman, and Calvinist Batman & Friends, where Batman talks about theological issues.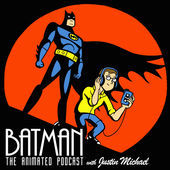 There are several with a comedy bent, like Kevin's Smith's Fat Man on Batman and Batman: The Animated Podcast, which is the one I'm focusing on here. Specifically, Episode 2: Two-Face, with guests Harry Chaskin and Murphy Cross.
Just two weeks in and the show's creator, host, and executive producer Justin Michael has received kudos from the likes of Nerdist.com, as well as jumping up into the Top 50 iTunes shows. This kind of action is amazing, especially for a show that is devoted to one micro-topic: Batman The Animated Series, which was only on TV in first run syndication from 1992-1995.
It was a highly stylized 22 minutes of animation (modeling itself in something called "dark deco", as we learn from Michael's main guest in this episode - his childhood friend and now Hollywood stop-motion animation artist, Harry Chaskin.) Michael himself is a performer and comedian, with roots in LA's UCB Theater.
And he's clearly infatuated by "BTAS", as he digs into each episode with the aid of various people, including voice actors from the show - such as Seth Green, who guested in the premiere episode and had played the character of Wizard - and in the latest installment when he's joined by Murphy Cross, a veteran of Night Court and Cheers, and who voiced the wife of criminal Harvey "Two-Face" Dent.
Is Batman a comedy podcast per se? Not exactly, but it passes the sniff test because it's hosted by a comic performer who knows how to insert laughs along the way.
--
Podcasts I'm also listening to: The Ten Minute Podcast: The Steven Seagal Show, with Will Sasso, Chris Delia, and Bryan Callen; and The Bob Zany Show with Erin O'Connor and guest Kevin Fagen.
--
This review originally posted as part of This Week In Comedy Podcasts on Splitsider.com.
REAL LIFE. REAL NEWS. REAL VOICES.
Help us tell more of the stories that matter from voices that too often remain unheard.