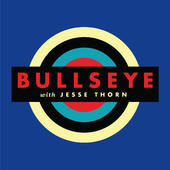 The guests that pass through the portals of Bullseye with Jesse Thorn run the gamut of show business and the conversations can get serious. Still, given the host's comedy connections, no one would debate that his show counts as a comedy podcast.
This week offers two insightful chats, the first with Chris Rock upon the debut of his latest film, Top Five. Thorn delves into the similarities between the lead character, played by Rock, who is a comedian turned movie star, and Rock's real life as a comedian turned...movie-kinda-star.
Thorne also talks to the delightful John Cleese of Monty Python's Flying Circus fame, who just published his memoir, So, Anyway. Cleese amusingly reveals the truth behind what brought he and the remaining members of Python together for their reunion in London last summer: A legal settlement of $800K against the cast. Solution: Put on a show!
In between the two chats, in a segment called I Wish I'd Made That, is Comedy Bang Bang's Scott Aukerman waxing wistful about TV's quirky Twin Peaks series.
Finally, Thorne closes the show talking about the triumph of Amazon's video series Transparent starring Jeffrey Tambor.
At one hour and 14 minutes this week, Bullseye serves up one hell of a show.
Popular in the Community