Comedian Cash Levy has had a good thing going, namely Cashing In with T.J. Miller. The long-running podcast features Levy always needing to have Miller fill in for his perennially missing "scheduled guests". But lately Miller (one of the stars of HBO's Silicon Valley) has been too busy to hit the podcast regularly and the gimmick wouldn't work if Levy had to book actual guests on the show.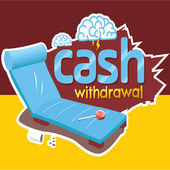 So the host has started moonlighting with a second show, Cash Withdrawal, as a kind of therapy to quell his jonesing over missing his interaction with Miller. This past week he dumped a trio of episodes within days of each other on the Nerdist network, to give listeners a taste of what they can expect in the Millerless format.
Episodes one and three leapfrog guest comic/actor Matt Knudsen (Grabbing Lunch podcast) over episode two, which features comedian Steve Mazan (Comedy Time Machine podcast).
The conversations are wide-ranging and funny, loosely wrapped with Levy's amateur psychoanalytical method being used to probe deep on subjects such as "What was your first R-rated movie experience?" (Knudsen's recollection can only dredge up a momentary flash of a woman's bare breasts in the movie Airplane!) Or Mazan's failure to properly supply s'mores to a Levy family barbecue. ("I got chocolate syrup instead of bars because I figured you were just going to melt the chocolate anyway!")
Levy assures listeners that his first devotion is still to the Cashing In show, but he doesn't want to leave listeners hanging between the difficult-to-schedule episodes. After hearing the opening salvo of this new show, devoted listeners will likely enjoy a little Cash Withdrawal to tide themselves over.
Marc Hershon is the host and executive producer of Succotash, The Comedy Podcast Podcast, featuring clips from comedy podcasts from across the Internet as well as interviews with podcasters, comedians, and assorted show biz folk.
Calling all HuffPost superfans!
Sign up for membership to become a founding member and help shape HuffPost's next chapter