Podcasting is fast becoming the busman's holiday of choice for comedians burning downtime between gigs. Case in point: Denzel Washington is the Greatest Actor of All Time PERIOD. The first episode just dropped this week on the all-new Wolfpop network, the pop culture-driven spinoff from Earwolf.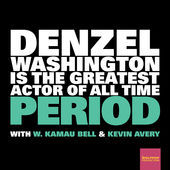 It features comedians W. Kamau Bell and Kevin Avery dissecting and deconstructing every movie ever made that features actor Denzel Washington, all in an effort to demonstrate why their man lives up to this podcast's title. Bell was the host of his own show, Totally Biased, on FX (and, later, FXX), while Avery has been writing for Last Week Tonight with John Oliver, now on hiatus until February. (Prior to that, he was a staff writer on Bell's show.)
The first installment looks at Denzel's most recent outing, The Equalizer, where he plays a retired lethal spy of uncertain origin who steps form the shadows to help a hooker with a heart of gold. (After this first episode, the hosts will be addressing the Denzel flicks in alphabetical order.)
They are unabashed in their mutual mancrush for Mr. Washington and use this opening entry to establish five elements of performance - the "Denzelishness" of his performance from film to film, if you will. Those five include 1) the Denzel walk (his "sideways stroll with the confidence of a man who just had a shot of tequila", as Bell and Avery put it), 2) humor, 3) the Denzel Lip, 4) unaffected badassery, and 5) his trademark move that consists of a sort of George Clooney head wobble coupled with narrowed eyes.
With 30-plus movies to go in Denzel's filmography, it's still anyone's guess which of those films will show Bell and Avery's hero at the height of his Denzelishness.
REAL LIFE. REAL NEWS. REAL VOICES.
Help us tell more of the stories that matter from voices that too often remain unheard.