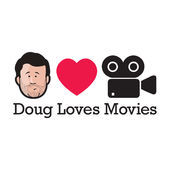 I'm kicking off the year reviewing one of the staples of podcasting, Doug Loves Movies, as a reminder that the adage "out with the old, in with the new" doesn't necessarily always apply. This year mark's DLM's 10th anniversary, making it one of the longest running regular shows out there in Podcastland.
With this installment it's clear that the formula that host Doug Benson cooked up back in 2006 still makes for fresh laughs. The usual lineup is tweaked just a bit this show, with four guests instead of three -- Andree Vermuelen, Patton Oswalt, Bert Kreischer and Geoff Tate.
Three of them are veterans of the show, while Vermuelen is making her debut. But make no mistake, she's no shrinking violet -- when the comic zingers start...zinging, she's right there in the thick of it.
Most of the zingers seem to aimed Kreischer's way, starting with his outfit and harping on many of his answers to host Benson's opening questions to the guests. Maybe it's out of the desire to see how many times they can get Kreisher (host of his own podcast, the Bertcast) to give out his weirdly contagious high-pitched laugh. Or maybe it's just that comic's instinct for fresh blood and going in for the kill.
Funny as the assembled crew is, Benson included, Oswalt is like some comedy ninja, dancing around a platoon of slower-moving samurai. Pulling out riffs, using references both common and arcane, it feels like he's pulling his punches a little bit just to give everyone else a chance to stay in the scramble.
There's so much funny in this show that's there's only time to get off one of games DLM has become known for, "Last Man Stanton". When the dust clears at the end, comedian Geoff Tate emerges the winner, movie senses honed by opening for Benson on the road at a number of gigs during the last year or so.
Doug Loves Movies definitely rings in the laughs for 2016.
Marc Hershon is the host and executive producer of Succotash, The Comedy Podcast Podcast, featuring clips from comedy podcasts from across the Internet as well as interviews with podcasters, comedians, and assorted show biz folk.
Popular in the Community