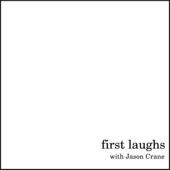 Comedy -- and comedians -- have been a large portion of podcasting since the inception of the medium. In fact, podcastery has turned out to be a major haven for standup comedians who have wanted and needed a place to showcase their material outside of the comedy clubs. First Laughs is a show that explores the relationship between standup and podcasting in a fascinating way.
Host Jason Crane is an experienced podcaster (he's hosted over 450 episodes of The Jazz Session) but a brand new standup. Very new. And he's launched First Laughs as a way to chronicle his foray into the art form.
Episode #001 from back in February features his very first five-minute set performed at Wise Crackers, a comedy club in central Pennsylvania. The current installment revolves around a comedy set performed at an Elks Club gig in Lock Haven, Pennsylvania.
Crane wraps the set he features with commentary before and after, delving into where the material came from, how he's changed certain elements from one performance to the next, his frame of mind based on the audience reaction, and other fears and thrills that a baby comic endures.
Even in the course of seven episodes, one can hear the difference in his confidence level and, especially, the evolution of his material. But he's got a long way to ago and, considering it can take a comedian about three years to find his or her voice, and another seven or so -- generally speaking -- to be comfortable speaking in that voice, First Laughs may be around awhile.
Podcasts I'm also listening to this week: Drunk On Disney Epi 79: Journey into YOUR Inebriation, and I Was There Too: Groundhog Day with Stephen Tobolowsky
Calling all HuffPost superfans!
Sign up for membership to become a founding member and help shape HuffPost's next chapter