Since starting his Amazing Colossal Podcast 10 months and 42 episodes ago, comedian Gilbert Gottfried has played host to a pretty amazing retinue of show biz folk -- including Danny Aiello, David Steinberg, Barbara Felton, Adam West, Frankie Avalon -- the list is mind-boggling.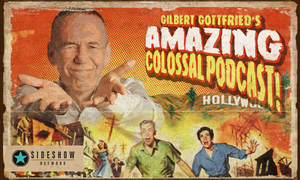 And he's never afraid to wander into the darkness with his questions. That's never more in evidence than in the latest episode with guest Dan Harmon, creator of TV's (and now Yahoo's) Community, and host of podcasting's Harmontown.
Right out of the gate, Gottfried asks Harmon about a story that's circulated that he did a little sexploration with a Sharpie pen as a young man. To his credit, Harmon doesn't shrink from that subject or the others that come up during the show, including confirming reports that he once ordered and co-habitated with a realistic rubber woman, or that he once referred to Steven Spielberg as "a moron" in a piece of private correspondence that then got out onto the internet.
Gottfried's co-host, Frank Santopadre, occasionally pulls the dialog out of the mire with more straightforward, "normal" questions, but it doesn't take too long before the show's namesake is at it again, cackling like a madman as he guides Harmon down another shameful memory lane. Like the infamous incident in which he invited the assembled crew at the Community season-ending wrap party to shout "F-- you!" at Chevy Chase.
Harmon leaves no question unanswered and manages to rationalize his behavior at every turn. It's an entertaining example of one man embracing his humanity.
Podcasts I'm also listening to this week: Matt Gourley's I Was There Too with guest Jenette Goldstein (from the movies Aliens and Terminator 2, among others), and Dark Angels & Pretty Freaks, Epi52: The One Year Podcasting Birthday Show
REAL LIFE. REAL NEWS. REAL VOICES.
Help us tell more of the stories that matter from voices that too often remain unheard.