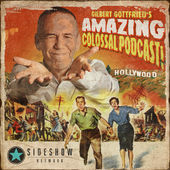 It seems I just recently reviewed Gilbert Gottfried's Amazing Colossal Podcast but I'm doing it again so soon because I simply couldn't resist his latest offering. A LIVE team-up of epic proportions in front of an audience at Caroline's in New York, featuring Gottfried and fellow comedian Lewis Black.
These two hurtle down twisting paths of subjects and reference points that would make Dennis Miller's head spin. Gottfried, in particular, reveals his specialties -- which I'm calling "Who's A Jew" and "Cinema Obscura" -- to the ongoing delight of Black.
The first one is a reference to Gottfried's rapidfire identification of those who are (or might be) Jewish when their names come up in the show. The second is the uncanny recall of the most dimly remembered actors from almost-famous movies such as The Ghost of Frankenstein.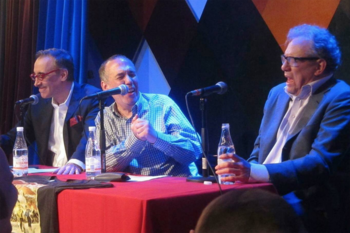 GGACP's co-host Frank Santopadre, the Keeper of the Sanity, manages to weave a narrative thread of sorts through the hour-plus episode, guiding Black to recount elements of his comedic and acting development. This includes crappy day jobs, failed pilots, and lamebrained network suits.
With all of the rampant fun that this episode brings, my favorite touchstone throughout is the syncopated rhythm of Gottfried's relentless cackle and Black's throaty chortle. Those sounds alone are enough to pull laughs out of your piehole.
Calling all HuffPost superfans!
Sign up for membership to become a founding member and help shape HuffPost's next chapter