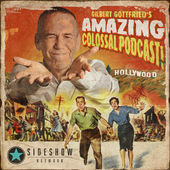 Count on Gilbert Gottfried to bring in the guests that you didn't realize you've been dying to hear. This week the guest on his Amazing Colossal Podcast is Chevy Chase and, although it takes some initial prodding by the host and his sidekick, Frank Santopadre, to get Chase into the swing of a conversational interview, once they do there are stories for days.
Chase talks about what it was like to be part of the first class of NBC's Saturday Night Live and his subsequent regret about leaving so soon. Chase is also totally forthcoming about the movie choices he made - good and bad - as well as indulging Gottfried's fascination about the movies he wasn't in that he was offered. Like Forrest Gump. "I read the novel and an early draft of the script. I just didn't see it. Good for Tommy." (A reference to star Tom Hanks taking on the role.)
Chase shares rollicking stories about working with Rodney Dangerfield and Bill Murray. "Bill likes to fight", he remembers, recounting an incident when he'd come back to host SNL and John Belushi had to step in between Chase and Murray to stop a confrontation.
He sidesteps the most recent turmoil, the unpleasantness a couple of years ago that had erupted between himself and Dan Harmon, the creator of TV's Community. ("We're friends. I don't even remember what that was about, actually.")
Gottfried's cackle maxes out a number of times during this episode, particularly when he asks his guest to recount being sued by Cary Grant. The storytelling is so rampant that, even after the host closes the show, he keeps plying Chase for details for another five or six minutes.
The Amazing Colossal Podcast review and other podcasts mentioned originally posted as part of This Week In Comedy Podcasts on Splitsider.com.
Marc Hershon is the host and executive producer of Succotash, The Comedy Podcast Podcast, featuring clips from comedy podcasts from across the Internet as well as interviews with podcasters, comedians, and assorted show biz folk.
REAL LIFE. REAL NEWS. REAL VOICES.
Help us tell more of the stories that matter from voices that too often remain unheard.