The podcast known as Harmontown is writer/show runner Dan Harmon's little corner of the world (along with Community and Rick & Morty and their attendant fan bases.) Its citizenry bursts into the confines of the NerdMelt space in Los Angeles every Sunday night, where Mayor Dan normally holds court with the aid of Comptroller Jeff Davis.
But things seem askew in the most recent 'sode. Davis is late and frequent guest Kumail Nanjiani (The X-Files Files, The Indoor Kids, Silicon Valley) steps in to kick things off instead. The excitable Harmon seems more ramped up than usual and listeners soon find out why: There are Important Guests milling around, the kind that even a loveable TV curmudgeon like Harmon is not used to having on hand.
In a rush, Jack Black and Kyle Gass storm the stage and blast out a Tenacious D song, only to immediately vanish into the night afterward. The audience barely has a chance to recover when Mayor Dan introduces Dana Carvey. His well-known characters -- The Church Lady, George Bush (#41 AND #43), Hans (or was he Franz?), Garth - are produced and then vanish like some kind of fabulous magic trick. And then as things settle down, Carvey takes the blame for the "failure" of Wayne's World 2 upon himself - "I was orange, and high-pitched, and trying way too hard. I'm sorry!"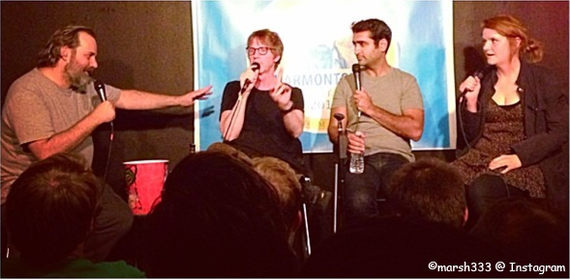 Not even the gushing of Harmon's fiancée Erin McGathy (This Feels Terrible) can jar him out of his comedically-induced funk. Finally, Comptroller Davis arrives (having overslept) just as Carvey makes his goodbyes, giving Harmon the chance to declare, "Dana Carvey has never done anything wrong!"
The rest of the program dissolves into tangential discussions, mostly about Davis' days as a child model and actor, before wrapping up with the customary Dungeons & Dragons session...and a longtime character dies.
REAL LIFE. REAL NEWS. REAL VOICES.
Help us tell more of the stories that matter from voices that too often remain unheard.