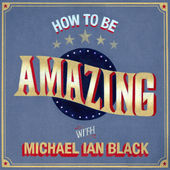 No stranger to co-hosting a podcast, Michael Ian Black (Mike And Tom Eat Snacks, Topics) handles the hosting duties solo on How To Be Amazing with Michael Ian Black. Produced at a leisurely pace since its launch a year ago come February -- there are less than 20 episodes so far -- and in conjunction with Audible, the audio book folks, and PRX, Black focuses his guest list primarily on authors.
In the case of his latest two-parter, his guest is David Sedaris, an author who is used to talking. Famed for his humorous, often autobiographical and frequently self-deprecating essays and wry delivery style, Sedaris brings every bit of that to the mic when he visits with Black in the studio.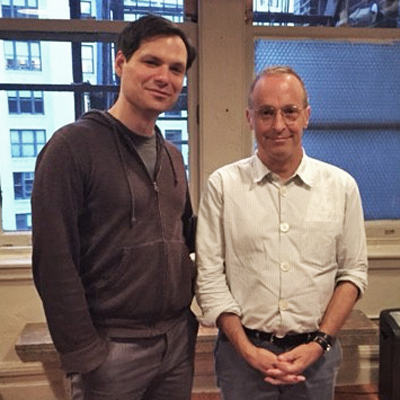 Black is not only clearly well-read but also a fan of Sedaris, playing alternately to the subjects that his guest has written about while also knocking the conversational ball into areas of the court where Sedaris is a little less comfortable playing.
A creature of many habits, he speaks several times of his latest affectation -- picking up trash on the streets in the village where he lives in England. "I sometimes get gifts from people who live there because they see me picking up garbage," says Sedaris. A few excerpts from readings done in public are played and, by comparison, it's delightful to hear how equally glib he is speaking candidly and off the cuff as he fields Black's questions.
Also helpful to the flow of the interview is that Sedaris makes it clear that he's listened to previous episodes of How To Be Amazing. So when Black concludes the show with the regular feature, "The Amazing Five", Sedaris is prepared to rattle his five choices in the categories the host tosses out -- such as Bob's Red Mill Pinhead Oatmeal in response to the topic of "Food".
Very specific, pretty unexpected, and innately humorous...not unlike the author himself.
Marc Hershon is the host and executive producer of Succotash, The Comedy Podcast Podcast, featuring clips from comedy podcasts from across the Internet as well as interviews with podcasters, comedians, and assorted show biz folk.
Calling all HuffPost superfans!
Sign up for membership to become a founding member and help shape HuffPost's next chapter