How many podcasts can one man do? Or make that TWO men in this case of the debut episode of I Was There Too, a brand new show on the brand new Wolf Pop spinoff from the Earwolf network.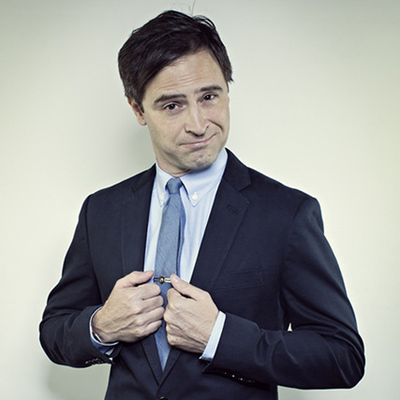 Hosted by Matt Gourley, familiar to comedy podcast listeners as part of Superego, co-host of James Bonding with Matt Myra, and a fixture on the Podcast Pilot Project with Andy Daly. His new show is the brainchild of Jeff Ulrich, the recently departed CEO of Earwolf, who asked Gourley if he'd shepherd in the new concept.
Very simply, Gourley locates actors who were somehow connected to well-known movies or specific famous scenes in some infamous films and has them on to recount the experience. But he's not going after the big-name leads in the films. He was to hear from the bit part players, the extras, the walk-on schlub who may never had appeared in another movie again.
For the show's debut, Gourley's tapped the hardest working voice in podcasting (and fellow Superego castmate,) Paul F. Tompkins. Tompkins is known as well for his appearances on the Thrilling Adventure Hour, Comedy Bang Bang, The Dead Authors Podcast, as well as the sporadically appearing Paul F. Tompkast.
What he is less well-known for is this dramatic acting turn, which occurred when he was invited by director Paul Thomas Anderson to shoot two days on There Will Be Blood, and delivered lines in the first scene with dialog featuring Daniel Day Lewis. Tompkins has distinct and hilarious recollections of the pair of days on set, including what an powerful presence Lewis was: "You've heard how intense he is but it's not true -- he's the most intense person on the face of the Earth."
I'm not only looking forward to the rather unique perspective that this show looks likely to provide, but the other new offerings from the nascent Wolfpop network of shows. I had the opportunity to chat with Gourley just two days before the new network went live. He filled me in a bit on what would be in store -- easy to do from his position as an independent consultant/podcast developer for Wolfpop.
Unlike the more comedy-oriented fare offered by its parent, the Earwolf network, Wolfpop aims to have shows "all about pop culture and media, with 13 new shows coming out," says Gourley. "Some are hosted by Paul Scheer, who is the chief "curator" of the Wolfpop shows. Leonard Maltin hosts a show. Devin Faraci and Amy Nicholson are doing a show called The Canon, about whether movies fit into certain categories. Rotten Tomatoes is doing a podcast..." The list seems to go on and on. And a lot of the shows seem worthy of checking out, including one featuring Sylvester Stallone. And Denzel Washington is The Greatest Actor of All Time, Period!, co-hosted by W. Kamau Bell and Kevin Avery.
It's quite a change for Gourley to go from being part of a 4-member cast of a podcast (Superego) to taking on the role of what I referred to as "one of the podcast industry's first 'suits'", which made him laugh. "It's been nice to be an outside creative consultant instead of feeling like I have to have my hands in every little detail. The whole concept there it to bring in people who you know will do a good job. That way nothing has to be managed. You just work with them from the beginning on what the show format will be, then record a podcast pilot and the idea then is 'This show is developed - go have fun with it!'"
Even his own show represents a departure from the sketch-based format of Superego and the 007 chat format with co-host Matt Mira on James Bonding. "This is an interview show and I have to learn how to keep on track with the conversation. It's not improv," Gourley points out. "It's like flexing a new muscle. I have room to grow in that regard."
"I want to keep it fun and light. I tell some of my guests that the show is a Shame-Free Zone," laughs Gourley. "They should feel to namedrop all they want. Nobody needs to be humble or modest. What I'm finding out is that the interview subject are all totally different types of people . There are some that are still working. Some that are not. Some are very humble. Others really just want to talk about themselves. A lot of them are characters in their own right, and that's going to be very interesting to see what types of people these subjects are."
Finding the extras and bit-part actors that he needs to fulfill the vision behind I Was There Too also represents a challenge. "I talked to Melody Rae, who's the woman with the baby carriage in that staircase shootout in The Untouchables," says Gourley by way of example. "It just so happened that my friend, Kelly, knows the woman from The Untouchables, so she was able to put me in touch with her. But some of these people are off the radar and hard to find. So I'm going to need help booking this show - that's going to be the hardest part."
(I talked to Gourley at length about Wolfpop, his show, and a few other subjects, including whether the term "podcast" should be now that Apple has officially retired their iPod device. You can hear the entire interview as part of Episode 98 of Succotash, my Comedy Podcast Podcast.)
Calling all HuffPost superfans!
Sign up for membership to become a founding member and help shape HuffPost's next chapter