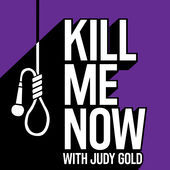 Normally, when a new podcast hits the web, standard practice used to be to give it a few installments to find its voice. Not so much any more. Case in point is this week's new entry Kill Me Now, hosted by veteran standup Judy Gold.
Her debut guest is comedian and writer Frank Conniff and, along with co-host/board op Lauren Hennessey, the trio makes their way hilariously through the kind of technical glitches and awkwardness almost every podcast is prone to in the early going.
As Gold explains, the title is derived from her number one personal catchphrase in life, which gets used a lot in this show as well, under the heading of "That's another 'kill me now' moment!" As a comedian with three decades under her belt -- and some acting work as well, as witnessed in her recent turn in this season's Louie as a lesbian mother-to-be -- getting up to speed in this audio medium should be a snap.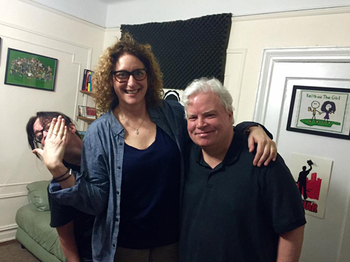 Gold is loud and brassy and makes no pretense about this being her show. (Co-host Hennessy seems to be so in name only, as Gold is forever capping on him whenever he tries to steer the conversation with their guest.) Conniff, on the other hand -- and although he comes off as a bit soft-spoken and reserved -- has been friends with Gold for years and clearly knows how to wait her out in their back-and-forth to place some great comedic shots in an almost Jack Bennyesque use of the occasional empty space.
We found out things about his background that fans of the Mystery Science Theater alumnus might not know -- including the news that a recent young lady in his life is currently doing jail time -- and there are a couple of installments featuring Gold's mother's voicemail messages to her daughter.
Funny from the get-go, Gold's show will no doubt get sharper and more hilarious in no time at all.
Calling all HuffPost superfans!
Sign up for membership to become a founding member and help shape HuffPost's next chapter