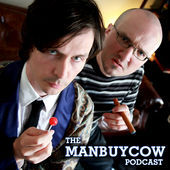 Part sitcom, part sketch show, and all quite mad, host Rufus and Howard are back with Season 3 of the ManBuyCow podcast. ("That's as in 'man purchases cow', not 'man next to cow'", explained Rufus in a recent interview.)
Emanating in England, MBC is a wholly original mishmash that chronicles the misadventures of two mates who live in a house that comes equipped with strange devices such as the infamous Time Fridge, which features prominently in the new season's first episode. It seems Rufus has been trapped in the past and it's up to Howard -- not the sharpest knife in the drawer -- to use the Fridge to retrieve him.
Along the way some recurring characters pop up, including Dennis Quaid (who sports a decidedly non-American accent), Tom Baker Doctor Who, and Grandpappy Doo. In the space of the half-hour-or-so show we're treated to a demon wedding, a daring Time Fridge repair, and a commercial pushing "Dog Slots" -- an online gambling site for betting your dog in order to try to win more dogs from a slot machine.
Rufus and Howard (maybe their real names) are self-taught podcasters, who pull together their own music, sound effects and whack-a-doo characters with high production values and consistently funny shows that share some sketch comedy DNA with the likes of Monty Python, The Goon Show, The Young Ones, and maybe a little of The Simpsons thrown in.
The episode ends with the first chapter in the latest adventure of Grett Binchleaf, "the hard-boiled detective with a crippling fear of pies" -- a character and feature so popular it's gotten its own spinoff series.
Marc Hershon is the host and executive producer of Succotash, The Comedy Podcast Podcast, featuring clips from comedy podcasts from across the Internet as well as interviews with podcasters, comedians, and assorted show biz folk.
REAL LIFE. REAL NEWS. REAL VOICES.
Help us tell more of the stories that matter from voices that too often remain unheard.