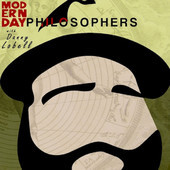 Comedian Danny Lobell moves into his second year of hosting Modern Day Philosophers, wherein he interviews a comedian guest and "pairs" them with a philosopher to then examine and discuss. Podcasting has become a place to get to hear some of the great comedians from the comedy wave two booms back - the 50's and 60's - and Lobell presents us with Shecky Greene, a classic funnyman if ever there was one.
The philosopher this time out? Blaise Pascal, the 17th century polymath who was a mathematician, inventor, physicist and writer. He built one of the first mechanical calculators, a fact that Greene and Lobell marvel over. "Kind words do not cost much," said Pascal, "But they accomplish much."
And Greene proves to be a very gracious guest. He sings. He speaks in dialects. He regales Lobell with stories of standup gigs of old. They dip into subjects such as Greene's gambling problem, developed at a young age when his father schooled him in horse race betting and continuing through his time headlining clubs and lounges in Las Vegas. He's quite forthcoming, revealing elements of his depression, his failed marriage, and his views on some of his contemporaries. ("Don't ask me about Lenny Bruce. I'll tell you sometime. Today I don't feel like talking about Lenny.")
We've lost some of our great comic minds lately - this is a wonderful opportunity to hear about the life and times of a comedy icon who is still quite lucid in his 80s, before it's too late.
Calling all HuffPost superfans!
Sign up for membership to become a founding member and help shape HuffPost's next chapter