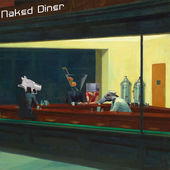 The two hosts of the Naked Diner podcast, Andrew Scott Hall and Jack Matirko, are a little hard to dig up info about in their lives apart from the Diner.
The latter seems to have several podcasts going and the former only reveals that he "has never been convicted of a crime, withstood a childhood of religious indoctrination, and seeks to make people laugh and think at the same time." Both possess a wry sense of humor and handle the co-hosting duties remotely, Skyping cross-country and then bringing in a guest to join them that way as well.
Most recently they chatted with Alyson Chadwick, a standup comedian and writer on the rise -- she runs The Random Journal online, a satirical news site -- with a former life as a political consultant and press flack for the Democratic National Convention.
The conversation starts off dipping into Chadwick's political history to delve into the mystery of why Donald Trump is heaving so much weight around as well as who the heck is going to be the one to stop him getting into the Big Chair at the White House. The trio is able to bring some sense to bear when it comes to what's happening in the current election year landscape, just before running the conversation down a side road to talk about Chadwick's comedy, where she's focusing her career these days.
Host Hall get a little fixated on a bit from Chadwick's act dealing with a cat's penis, but they manage to weather that storm enough to move on to talk about the nuts and bolts of comedy, while delving a bit further into the hazy world of political consultancy. It's a totally apropos juxtaposition of topics for this year's election madness.
Marc Hershon is the host and executive producer of Succotash, The Comedy Podcast Podcast, featuring clips from comedy podcasts from across the Internet as well as interviews with podcasters, comedians, and assorted show biz folk.
Popular in the Community