Thus endeth the adventure.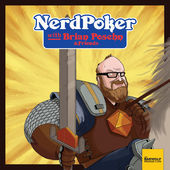 I'm referring, of course, to Nerd Poker, the weekly podcast featuring comedian Brian Posehn "And Friends." For the past three years, listeners had the chance to listen in on a Dungeons & Dragons adventure as played by a bunch of comedians and writers who were not only all friends of the host but only took the famed role playing game serious enough to bring them together each week.
Advancing the characters and the adventures they were involved in was secondary to having a fun time. Each hour's episode had more tangents than Deck of Many things, most of which were not only NSFW but were so inside either the RPG or comedy world that outsiders to one or the other were left scratching their heads.
This week's final chapter featured the return of several cast members who had departed during the show's run, including original Dungeon Master Sark (Scott Robison) and the show's only female player, Sarah Guzzardo. The long-termers were all there - Posehn, Blaine Capatch, and Ken Daly - as well as latter-day "And Friends" Dan Telfer and Steve Agee, who fell into the ranks to replace the missing folks. (The only one absent was original cast member Gerry Duggan, busy writing comic books and unable to find a babysitter.)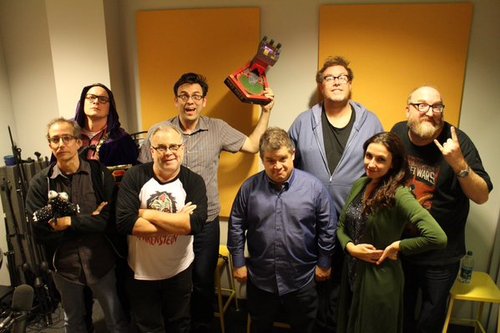 Actionwise, for the show's conclusion, Sark returned to bring the assembled crew together, including the ghosts of several beloved characters that had met their ends by horrific deaths as fated by bad dice rolls. And the reunion culminated with the performance of a foul-mouthed dwarven singer, portrayed by Patton Oswalt, who had composed a special song mentioning all the major characters and "honoring" them by way of the filthiest lyrics ever to pass through a pair of earbuds.
Posehn insists that there will be a "Nerd Poker 2.0," although what form it takes and when it may appear is a complete unknown for now. Thanks to its home on the Earwolf Network, people can binge-listen their way through the entire set of adventures for now.
As a frequent listener to Nerd Poker, my one regret is that the gang was never successful in their attempts to lure actor Vin Deisel -- supposedly a big D&D aficionado -- into the studio and around the gaming table with them. Maybe next time.
Marc Hershon is the host and executive producer of Succotash, The Comedy Podcast Podcast, featuring clips from comedy podcasts from across the Internet as well as interviews with podcasters, comedians, and assorted show biz folk.
Calling all HuffPost superfans!
Sign up for membership to become a founding member and help shape HuffPost's next chapter