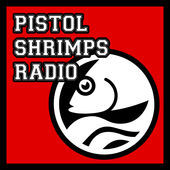 There's a new podcast, Pistol Shrimps Radio (eight episodes so far), that's the answer to the prayers of listeners who love the action of women's rec league basketball.
Sort of.
The LA-based Pistol Shrimps really exist (as featured in a GQ article last fall) and one of their team members is Amanda Lund.
That's where the trouble starts.
Lund is the girlfriend of podcaster Matt Gourley, ringleader and cast member of the Superego podcast. He's got two other shows besides and "I thought, 'I only have three podcasts. I really need a fourth."
That's what Gourley shot me back when I asked him the question "Why?" on the Internet. He dragged fellow Superegoist Mark McConville in to help him provide a running play-by-play and color commentary of the basketball games as they are actually happening, set up more or less courtside.
The whole thing is completely improvised with no editing ("The one rule I made for myself is that this show gets NO EDITING," wrote Gourley. "That's what kills me in podcasting.")
The two guys, as the announcers, bounce back and forth between drooling over sexy male refs and leering at the players, in between describing the action on the court -- which is ever more obtuse as neither guy in real life knows much about basketball. In the halftime break they're joined by podcaster/rapper/wrestler Jensen Karp, who describes in detail the socks worn by the players.
The whole thing's funny, fast-paced, and has hilarious flubs along the way because of Gourley's "no editing" rule: "It's the loosest thing I've ever done - and that's kind of the point. It's nice to do something really mediocre - it's much harder to fail at it!"
--
Podcasts I'm also listening to this week: Dear Hank & John -- The Debut: Do You Pee on Your Own Head? and Deetales Podcast: This Gon' Be
--
The Pistol Shrimps Radio review originally posted as part of This Week In Comedy Podcasts on Splitsider.com.
Marc Hershon is the host and executive producer of Succotash, The Comedy Podcast Podcast, featuring clips from comedy podcasts from across the Internet as well as interviews with podcasters, comedians, and assorted show biz folk.
REAL LIFE. REAL NEWS. REAL VOICES.
Help us tell more of the stories that matter from voices that too often remain unheard.