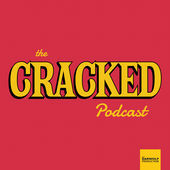 I remember Cracked magazine from when I was a kid - to me it was always that "other" Mad magazine that I never really got around to reading because the satire never seemed quite as sharp and they didn't have Don Martin cartoons. ("Fap!") But the spirit of Cracked made the leap from print to digital in 2005 thanks to Jack O'Brien and a comedy-savvy editorial team, which have been injecting pointed, wry, and silly humor into society's funny bone via website, videos and, inevitably, The Cracked Podcast.
O'Brien recently hosted episode 110, "Why We Should Wait 5 Years To Award The Oscars," a live version of the weekly show aimed directly at the Oscars from the UCB Sunset theater in Los Angeles. Joining him in front of a sold-out house were staffers Dan O'Brien and Alex Schmidt, writer Liana Maeby, and actor Stanley Wong (The Big Short, 22 Jump Street).
The team's capping on the Academy Awards seems especially focused following this year's yawn fest, and they joke about bringing more relevant categories to the contest such as Best and Worst Running Times ("Whether you hated or loved Mad Max, it was exactly two hours, which was the perfect running time!") Other category ideas: Best Title, Best Accent, Best British Actor Playing An American (and vice versa), and Best Oscar-Bait That Didn't Get Any Nominations - this year's winner would have been Burnt, starring Bradley Cooper, according to the panel.
They also discussed the prevalent issue of race, which weighed so heavily on this year's festivities, the overwhelming percentage of "old white guy" memberships in the Academy, and a variety of other subjects.
The only thing they couldn't get around to solving was how to make the awards show less than three hours long.
Podcasts I'm also listening to this week: Grouch Inc. -- #15: Rev. Bob Levy, and Shmanners -- Travel: Boats and Planes
Marc Hershon is the host and executive producer of Succotash, The Comedy Podcast Podcast, featuring clips from comedy podcasts from across the Internet as well as interviews with podcasters, comedians, and assorted show biz folk.
Popular in the Community