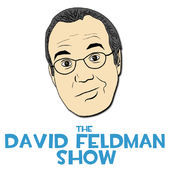 If you like your comedy podcasts focused on current news, with a salty (and sometimes buttery) spin, The David Feldman Show should be right in your wheelhouse. While Feldman can do a fairly straight-ahead interview with politicos and celebrities, an episode featuring a roundtable discussion is not one of the same stripe.
This week features not only the return of the acerbic wit of Frank Conniff, but comedy writer/podcaster Myka Fox (Myka Fox & Friends), and comedian/writer/podcaster Liam McEneaney (Tell Your Friends!).
Conniff (Podhouse 90) was a staple on Feldman's show for a long time, through its different incarnations --at one time, the host ran it like an old-style radio show, with himself in a Jack Benny-esque role as a stingy leftwing political comic surrounded by a rotating cast of characters, many of whom were also comics. After a year away, busy on projects of his own, Conniff has at last returned.
On the docket this round is Trump's play for the Presidency, the militant side of the Left, The Open Secret, Amy Berg's documentary about Hollywood child abuse, and Bill Cosby. Nothing like a slate of touchy subjects to bring out the best ("and worst", according to Feldman) when four razor-sharp comedians clump together.
If you tend toward the politically correct, be forewarned -- this show will spike your systolic. The group's discussion on whether the subject of rape is funny requires that a stream of jokes and references on the subject be used as proof points.
The inherent danger of listening to The David Feldman Show in public is that you need to figure out in advance what you're going to say when someone asks, "What are you laughing at?"
Marc Hershon is the host and executive producer of Succotash, The Comedy Podcast Podcast, featuring clips from comedy podcasts from across the Internet as well as interviews with podcasters, comedians, and assorted show biz folk.
Popular in the Community