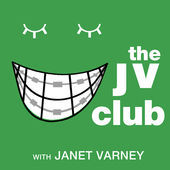 Having just concluded her "Boys of Summers" series of guest on The JV Club, host Janet Varney returns to what she does best, interviewing the women of show biz. For her episode 170, Varney brings us Kelly Carlin, daughter of comedy god George Carlin.
"I worshipped him, so he was a god to me," explains Carlin.
She's just released her book, A Carlin Home Companion: Growing Up With George, which is not dissimilar from her one-woman show that she's been touring with for the past few years.
Varney is an engaging host, able to get her guests to go pretty deep, and Carlin is no exception. There are details shared about the double-edged nature of being raised in the shadow of a legend, and what it's like carrying the torch of that legend forward.
The pieces of her show began coming together after her mother passed away but her father was still alive. Carlin talks about the dichotomy of her father's reputation as a "Truthteller" but the painful reality that he would never watch her perform because her truth about family was too painful to bear.
There are many lighter moments in this episode, thanks to Varney's deft chatting skills, yet it's also nice to know that when a comedy podcast gets real about comedy itself, it doesn't always have to come out funny.
Marc Hershon is the host and executive producer of Succotash, The Comedy Podcast Podcast, featuring clips from comedy podcasts from across the Internet as well as interviews with podcasters, comedians, and assorted show biz folk.
Calling all HuffPost superfans!
Sign up for membership to become a founding member and help shape HuffPost's next chapter