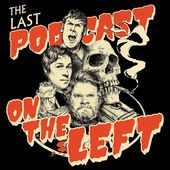 Last Podcast On The Left
Episode 232: Bigfoot Hunters
Unlike most of the strange and fantastic topics that hosts Henry Zebrowski, Ben Kissel, and Marcus Parks of The Last Podcast On The Left have covered, this podcast is a lot more substantial. For 232 episodes now, the trio have irreventally yet fairly thoroughly looked into such weird stuff as demonology, UFO sightings, cults, vampires, chaos magic and, most recently, bigfoot hunters.
Be warned: The hosts do not hold many (if any) of the cryptid seekers in high regard.
Through readings, interpretations of writings, and hysterical impressions of these mostly bearded and overweight stalkers of the Sasquatch, Zebrowski and company go pretty deep -- the episode runs over an hour -- and can't seem to find a single rock solid account or shred of evidence that holds up to scientific scrutiny.
Still, there is also a bit off affection tossed out for the incredible moxie and showmanship that many modern day hunters of bigfeet display. (And it IS bigfeet, not bigfoots, when you're speaking of the pretty-much-nonexistent creatures in the plural.)
The hosts have gotten pretty popular and travel around doing live shows in spots around the country. One hopes that in their ramblings, the guys are keeping their eyes peels for the odd and unusual.
The The Last Podcast On The Left review and other podcasts mentioned originally posted as part of This Week In Comedy Podcasts on Splitsider.com.
Marc Hershon is the host and executive producer of Succotash, The Comedy Podcast Podcast, featuring clips from comedy podcasts from across the Internet as well as interviews with podcasters, comedians, and assorted show biz folk.
Popular in the Community