Podcasting once again shows off its prowess as a medium that's versatile enough to pull off the unexpected without a whole lot of hassle and difficulty with TWO adjacent episodes of The New Hollywood Podcast, hosted by Brian Flaherty, that both dropped this week.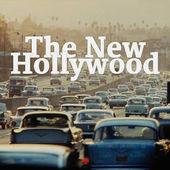 Monday's installment was short - just 15 minutes - and featured Flaherty's interview with 70's movie producer and schlockmeister Alan Marlowe. You might remember some of his forgettable films like The Sins Of Elmira, An Arrangement of Marriage and Flowers and Eddie The Mute. The jig is up, as the mugs used to say, in Wednesday's epi, when Flaherty reveals that Marlowe was portrayed by Adam McKay, who is then interviewed for 40 minutes in the latter installment.
It's a zany example of a show cross-promoting itself. I exchanged emails with Flaherty, who revealed how the idea came about.
"I had an idea to do a bit with him (McKay) because my show is primarily older guys from the 70s," Flaherty writes. "So he pretended he was this 70s producer character and did about 12 to 15 minutes of pure comic improv genius."
McKay's Marlowe is pretty seamless improv - for those familiar with Andy Daly's sleazy producer character Don DeMello from Comedy Bang Bang, there's a certain similarity - and his turn as himself is a chance to catch some fascinating back story from before he and comedy companion Will Ferrell hit the big time.
He even catches listeners up on what's going on with his daughter, Pearl, made famous in web video form as Ferrell's irate, 2-year-old landlord on Funny Or Die.
Also listening to: OnBrand: The Primal Code of Digital Brand Building with Patrick Hanlon; and The Casa Mirth podcast: The Christmas Special
Popular in the Community