Pauly Shore's back and podcasting's got him... again. This freewheeling comedian -- and scion of The Comedy's Store's owner Mitzi Shore -- recently launched The Pauly Shore Podcast Show as part of the Podcast One network.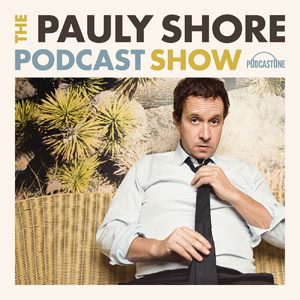 Even though he's in his 40s now, Shore still scores with his "perma-slacker" voice and attitude, clearly needing the several members of his support team in the studio to get him from point A to point B. Even the point of editing seems to escape him at times, with Shore once needlessly recapping something that we just heard happen (which had apparently been a while back in real time.)
Childhood friend and occasional acting rival David Arquette is his guest and their chat is very loose, hilariously wandering from topic to topic, including Arquette's childhood, growing up with his acting siblings, life with Courtney Cox, life without Courtney Cox, and how things are now with a three-year relationship and an 8-month old son.
The interview ends abruptly as they're talking about what Shore would name HIS son, were he to have one, but there's more show to be had.
Shore talks to his mother's caretaker, Alfred, as well as a movie producer from Relativity Productions, which has offices down the hall from the studio where Shore is recording. He and the producer start joking about doing a sequel to Shore's 1996 movie Bio-Dome, which turns a semi-serious pitch towards the end.
This series seems to be some kind of reboot, as iTunes has episodes of Pauly Shore's Interested, featuring Shore interviewing comedians last fall, but those end at Episode #19, which posted just two weeks before the new one started. I don't pretend to get what happened with that show but it seems right in step with Shore's loose cannon reputation.
Calling all HuffPost superfans!
Sign up for membership to become a founding member and help shape HuffPost's next chapter