What do you get when you cross a conservative comedic radio commentator with a conservative comedic podcaster? The PO'DCast, featuring Dennis Miller as the former and Adam Carolla as the latter.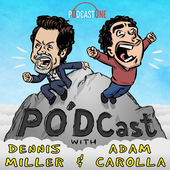 Considering that both of these guys have platforms from which to spew their views, this is like a DC/Marvel comic crossover of legendary proportion. This week was only the second edition of their mashup, and one gets the feeling that the two hosts are politely feeling out the edges of each other's hot buttons.
The show kicks off with their takes on the Super Bowl, with particular emphasis on the "poopdown" executed by Seahawks' wide receiver Doug Baldwin. The pair riff through a series of subjects as part of their "We Rant Therefore We Are" segment, hitting on politics, the Middle East, movies, Saturday Night Live, and other pop culture touchstones.
Miller revels in sprinkling out obscure references as part of his shtick, registering delight whenever Carolla taps into one of them and goes with it. Miller, on the other hand, doesn't seem quite sure what to do with his co-host's humble I'm-just-a-carpenter perspective on the complexities of life but is perfectly willing to roll with it. The show is set up to take callers, giving the boys some fodder to munch on without too much danger of taking each other to the mat for their views.
The PO'DCast is consistently funny, not the least of which comes from the ongoing but subtle attempts to get the upper hand. Those honors go to Miller in this episode, who smoothly slides out of the studio with moments to go -- "I'm gonna rock, Ace! Good to talk to you!" -- leaving Carolla to close things out on his own.
You'll get him next time, Adam!
Calling all HuffPost superfans!
Sign up for membership to become a founding member and help shape HuffPost's next chapter