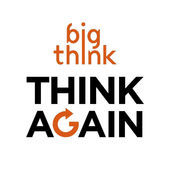 Think Again is a true conversational grab bag of a podcast, a product of the Big Think informational website. Or byproduct, more accurately, as host Jason Gots gets his guests directly from video interviews being done for the website.
Each episode, Gots and his guest get three "surprise" sound bites, culled by the show's producer from the vast Big Think resources, and the chat springboards from the audio clips. In the latest go-round, legendary TV producer Norman Lear, fresh off publishing his memoir Even THIS I Get To Experience, responds to the diverse topics of space travel, the effects of stress on humanity, and Donald Trump.
Lear is a refreshing voice of life experience, and his famous liberal viewpoint takes aim squarely but fairly at Trump, whom he points out as being "a horse's ass, but an AUTHENTIC horse's ass," one that is reflective of a wide swath of American society.
He also unfurls an unflattering image of his own youthful perspective on foreign cultures, having been on bomber crews during World War II and not really considering the innocent lives that were lost as he helped to drop bombs on enemy forces below.
Lear's view on the matter of space travel echoed that of host Gots: A great idea but shouldn't we solve the problems of this planet before moving out to the neighboring planets?
Coming in at just 23 minutes, Think Again is a short - yet deep - and enjoyable listen.
Podcasts I'm also listening to this week: Oh Boy: Episode 8 - Whitney Cummings; Food Is The New Rock: The Walking Dead Food Special w/Emily Kinney; and Allegedly with Maksim Chmerkovskiy
Marc Hershon is the host and executive producer of Succotash, The Comedy Podcast Podcast, featuring clips from comedy podcasts from across the Internet as well as interviews with podcasters, comedians, and assorted show biz folk.
Calling all HuffPost superfans!
Sign up for membership to become a founding member and help shape HuffPost's next chapter