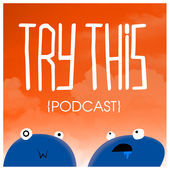 A lot of people can say that their podcast offers the listener something different but perhaps only Chicago comedian Robert Bacon truly delivers the goods with his Try This podcast.
Every episode features a guest host -- usually a fellow comedian from the Chicago region -- who arrives with a new concept for the show to be about that week. Not just someone with things to talk about, but a whole format with all the works.
The latest installment sees Ben Larrison returning for a repeat visit with Bacon. (Larrison gained recognition just this past winter for his Kickstarter campaign, the Chicago Transit Project, in which the comedian raised money to plaster weird, funy advertisement cards on 100 Chicago CTA train cars.)
He and Bacon band together as Jim #148 and Jim #341 to host The Jimtown Cult Podcast. Because the guest can pick and choose what's going on, it's actually the 100th episode of TJCP. It's being podcast from a community where everyone - men and women - have shrugged off their earlier identities and have named themselves after their leader, Jim. The two Jims play favorite clips from past episodes, like when Jim #3 and Jim #1000 drop by, followed by Joe Cocker.
It seems quite the life, going through it as Jim, though one can't help but to hear tinges of reqret and sadness in the co-hosts' voices as they secretly yearn for freedom from all things Jim.
Podcasts I'm also listening to this week: Comedy On Vinyl -- Andre Jacquemin; and The Shepod -- Recreational Eating is My Favorite Sport
Marc Hershon is the host and executive producer of Succotash, The Comedy Podcast Podcast, featuring clips from comedy podcasts from across the Internet as well as interviews with podcasters, comedians, and assorted show biz folk.
Calling all HuffPost superfans!
Sign up for membership to become a founding member and help shape HuffPost's next chapter