Host Marc Maron had the late Harris Wittels as a guest in "the garage" for episode 424 of WTF less than two years ago, back in September of 2013. The day after Wittels was found dead, Maron reposted that interview.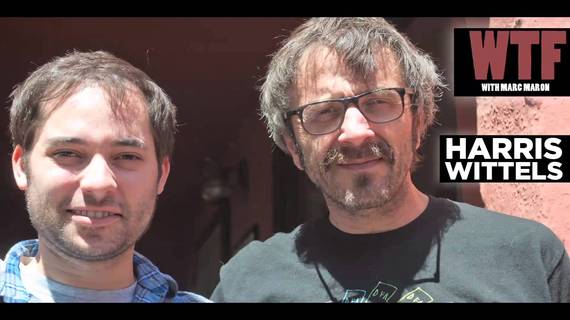 "This is what we do here on WTF, in respect for people who have passed away," Maron says by way of introduction.
Most of us aren't used to someone as young as Wittels, who was just 30 years old, as having demons. Even in retrospect it's hard to say that we can even glimpse them here.
Starting out as a Jewish kid from Oklahoma, Wittels talked to Maron about recreational drug use starting in his early teens. At one point in the conversation, he says that he had done so many hallucinogens like acid and ecstasy at concerts that, by the age of 25, he'd stopped using them because he didn't find the effects all that interesting.
Apart from bouncing between being clean and using, the main picture that emerges is more about a young man who discovered comedy, and his facility for it, beginning around the age of 18 and how that changed his life. Seeing acts such as Doug Stanhope and opening for the likes of Bobby Slayton at The Improv in Houston were formative experiences, Wittels shared with Maron.
In pursuit of standup, he found himself drawn to Hollywood, doing sets and working as a grunt at Comedy Central, where "I'd answer phones and watch South Park episodes in the vault," said Wittels. Nine years ago, at 21, Sarah Silverman saw his standup set and invited him to submit writing samples for The Sarah Silverman Show. He got the gig and was a staff writer through 2010. From there he got on staff in the second season of Parks and Recreation, working his way to an executive producer title while also appearing on the show.
He revealed to Maron that he considered himself a bit of "a fraud" given his rapid rise once he got to Los Angeles. "I didn't even have to eat that much shit when I got out here," he laughingly said.
As Wittels talked about his life, still in high gear as this interview was laid down that, there's really no hint that, just two years later, it would come to such a tragic end.
REAL LIFE. REAL NEWS. REAL VOICES.
Help us tell more of the stories that matter from voices that too often remain unheard.