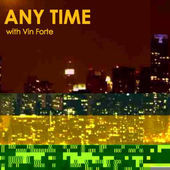 Any Time with Vin Forte
Episode 27: "Rocket Launches and Writing Retreats"
Guest: Nicole Perlman
Vin Forte, host of Any Time with Vin Forte, celebrates the first year of his podcast and welcomes screenwriter Nicole Perlman (Guardians of the Galaxy) to talk about her experiences as a writer in Hollywood. And while being a female writer in Hollywood is nothing unusual these days, being one that has broken the testosterone ceiling is.
She talks about how she was passed on projects specifically because producers couldn't see how a woman was going to be able to bring the pain to a movie in genres like sci-fi and comic books. They started to catch a clue when she was brought in to punch up characters on Thor but once Guardians came together she's been heavily pulled into other Marvel projects since. (She's a writer on the upcoming Captain Marvel project, and did the treatment for the in-development Black Widow movie.)
Perlman talks about an amazing childhood of being exposed to big thinkers in the science community, and how that association has continued to this day by way of a group that brings Hollywood writers and scientists together.
She talks a bit about how she's discovering that having broken into the boys' room of sci-fi, along with a handful of other women, is proving to be inspirational to other women who hadn't thought it was even possible.
And Perlman can only give the barest of tantalizing hints of what's in store for comic book fans awaiting the release of the Gamorra series she's writing which comes out this winter, which is based on Zoe Saldana's character in Guardians.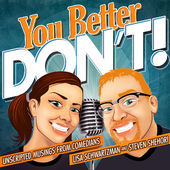 You Better DON'T!
Episode 68: Ubermensch
"Always leave 'em wanting more," goes the quote attributed most often to showman P.T. Barnum. It could also be the tagline for the You Better DON'T! podcast from Steven Shehori and Lisa Schwartzman. Each episode of this "weekly-ish" show runs about seven minutes, and it's funny to think of the hosts gearing up, firing up the equipment and sitting down to record, only to finish up in less time than it takes to cook breakfast.
This week's installment, "Ubermensch", has Shehori recounting an recent incident in his part-time gig as an Uber driver, wherein he picked up a passenger with a Russian accent and was driving him to Union Station. Along the way, he got a call on his cell phone and a Russian-accented voice told him he was going the wrong way and needed to drop the passenger at a hotel across town.
You have to hear the show to understand how the story twists -- no great hardship with a running time of just six minutes -- and Schwartzman ends up doing her best to talk her co-host out of the notion that the passenger was NOT a time traveler bent on wide-scale destruction.
Podcasts I'm also listening to this week: Found -- Episode 3: Found Baby; and Harmontown -- Episode 208: Kraton Barrel
In addition to his weekly contributions to This Week In Comedy Podcasts for Splitsider.com, Marc Hershon is the host and executive producer of Succotash, The Comedy Podcast Podcast, featuring clips from comedy podcasts from across the Internet as well as interviews with podcasters, comedians, and assorted show biz folk.
REAL LIFE. REAL NEWS. REAL VOICES.
Help us tell more of the stories that matter from voices that too often remain unheard.