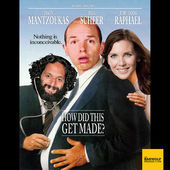 While the How Did This Get Made? podcast, co-hosted by Paul Scheer, June Diane Raphael, and Jason Mantzoukas, always provides a series of delightful glancing blows to some of the best worst movies to grace the silver screen, it's only every so often that they manage to rope one of the perpetrators of these golden turkeys into the studio to either defend or explain themselves.
This week offers up a bonus episode, featuring an interview with the legendary Mel Brooks, the executive producer of Solar Babies, a movie bad enough to rate the New York Times calling it "an embarrassment.
HDTGM correspondent Blake Harris of /Film gets Brooks on the phone and the man has no qualms about offering up everything that went hilariously wrong with Solar Babies from beginning to end -- how the budget went from $5 million to more than $20M, weird location decisions, bad weather, having to beg for more money, and more.
I love how open and forthcoming Brooks is about details of the film, including how he had to go, hat in hand, to friends and financiers to try to get more money for production, only to end up nearly broke because of shoveling his own funds into the movie pit of a film.
The story has a happy ending for the producer in that, finally, after so many years, the film has finally broken even thanks to its questionable status as a cult "classic".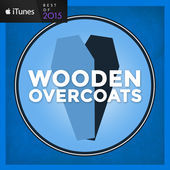 Is there anything worse than a well-produced, beloved podcast going on hiatus between seasons? Probably, but I've been jonesing for a taste of England's Wooden Overcoats, one of my favorite sitcoms-in-podcast-form to come along since, well...ever.
The producers have pulled together a short (12 minutes) "appeteaser", with a spin-off of sorts that's focused on the mouse-based publishing world that the Wooden Overcoats narrator -- a mouse named Madeleine -- is trying to break into with her behind-the-scenes Memoirs Of A Funeral House Mouse.
None of the show's regular characters are on hand but the writing is spirited and fun as we get to hear the publishing staff (all mice) kick around the newest mouse-uscripts to be submitted for publishing consideration. There are tons of rodent puns crammed into this showlet and the delightful spirit of this short offering keeps alive the promise of upcoming Season 2 of the main show.
(The producers also are waving the Kickstarter flag in order to help crank up the self-finanacing machine to lure the actors and writing staff back to the podcast mics...as well as the studio space in which to perform.)
Let's hope they make their goal -- it would be a shame if this hilarious show about two feuding funeral directors had to die on the vine.
The How Did This Get Made, Wooden Overcoats reviews and other podcasts mentioned originally posted as part of This Week In Comedy Podcasts on Splitsider.com.
Marc Hershon is the host and executive producer of Succotash, The Comedy Podcast Podcast, featuring clips from comedy podcasts from across the Internet as well as interviews with podcasters, comedians, and assorted show biz folk.
Calling all HuffPost superfans!
Sign up for membership to become a founding member and help shape HuffPost's next chapter