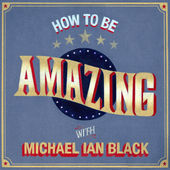 How To Be Amazing -- Epi36: Michael Showalter
Comedian Michael Ian Black, tends to wield his delightfully wry -- nay, sardonic -- wit quite liberally when he's encountered on two of his three podcasts. Such as Mike And Tom Eat Snacks with co-host Tom Cavanagh or TOPICS with co-host Michael Showalter. When he's solo hosting How To Be Amazing, however, he reins some of that tendency in a bit, which no doubt invites his guests to expound more than they otherwise might.
In the latest installment, when his guest is the aforementioned Michael Showalter, he's cranks the sardonic meter up more than just a bit. But why not? He and Showalter go way back.
They have what's called "history", dating back to when they were both in the fabled sketch group The State. Black starts off trying to come off like the impartial interviewer, probing about his guest's upbringing and early history. These guys have known each other for so long, and are such good friends, that at one point Showalter even asks, "Am I supposed to be answering like you don't know any of this?"
That realization lets Black off his self-imposed interviewer's leash and what transpires is more fun yet more real chat that we may have gotten in less capable hands. Showalter talks about how frustrating much of the entertainment industry can be and how, much to his surprise and dismay, what he thinks is funny does not always resonate with the audience.
As evidence he cites the mixed reactions that have met his second-ever directing effort in the feature film realm, My Name Is Doris, starring Sally Field. The movie scored well ("Certified Fresh" on the Rotten Tomatoes websitewith an 83%) but some found the humor to be shockingly non-Sally Fields-ish. After quirky cult faves like Red Hot American Summer and Stella, another sketch offering with himself, Black, and David Wain, lack of larger success had him dabbling with teaching college courses in film and writing.
Even now, as the flames of his confidence get fanned a little higher, Showalter seems he could resign himself to a life of elbow patches and corduroy pants on a East Coast college campus if it doesn't all work out.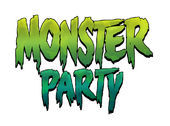 Monster Party - Crossovers We'd Like To See!
On the heels of this year's San Diego Comic Con, it seems appropriate to review the latest edition of Monster Party, a podcast concept borne of the Con several years ago. Hosts James Gonis, Shawn Sheridan, Larry Strothe, and Matt Weinhold were hanging out in a shared hotel room, getting plastered and arguing about monster movies. And thus a podcast was hatched.
This week their guest is actor and writer Steve Bannos (Freaks & Geeks, Bridesmaids, HBO's Love, Ghostbusters) and the topic is crossovers - what the kids call mashups - slamming one monster, horror, or sci-fi movie concept into another to see what comes out.
Ever wonder what a Star Wars/Star Trek fusion might look like? The boys mostly argue about why that WOULDN'T work.
More curious is the idea of melding King Kong with Jurassic Park, Easy Rider meets Ghost Rider, and even The Time Machine crossed with Back To The Future. ("Marty McFly fighting the Morlocks!" crows Strothe.)
Some of the ideas would make great movies while others seem like they'd be for a more cultish crowd -- like the gang from Scooby Doo running afoul of the doctor who created The Human Centipede.
There is a whole fleet of other ideas which would be the stuff of nightmares to a movie development executive, so grab a download of Monster Party and give a listen!
Podcasts I'm also listening to this week: Wolf 359 -- Mini Episode 8: Language Mapping; and Medium Popcorn -- "Lady" Ghostbusters
In addition to his weekly contributions to This Week In Comedy Podcasts for Splitsider.com, Marc Hershon is the host and executive producer of Succotash, The Comedy Podcast Podcast, featuring clips from comedy podcasts from across the Internet as well as interviews with podcasters, comedians, and assorted show biz folk.
Calling all HuffPost superfans!
Sign up for membership to become a founding member and help shape HuffPost's next chapter