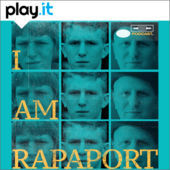 Actor Michael Rapaport (Zebrahead, Mighty Aphrodite, Cop Land and 60+ other projects) has been kicking it podcast-style with his buddy Gerry Moody for the past year via I Am Rapaport, a show I may have overlooked if not for his appearance on this week's WTF with Marc Maron .
Having been weaned on diet of rap and comedy starting in his teens, "Rap" has a unique and definitive rhythm to his delivery, which is rapid fire, truthful and disarmingly funny. And Moody matches him step-for-step. There are also no filters on these guys -- if you're squeamish about expletives, be forewarned -- this is the kind of show that iTunes' "Explicit" notice was made for.
Rap also makes no bones about getting things right, as he periodically reminds us that the hosts don't fact-check anything as they go. (Let's be honest: a lot of gabcasts don't seem to fact-check, either, but they spew right along as if they're streaming gospel.)
As for what's on the subject docket, I Am Rapaport is a smorgasbord of chatter, with conversation between the hosts ranging from politics (heavy on the Trump-bashing), questioning why Singer Adele is so hot, The People vs O.J. TV series, haven't we all had enough of Kim and the other Kardashians (including a slice about shouldn't Rap and G be allowed to walk down the street with their "loaves" out), what business does Pam Anderson have telling convicts to go vegan, and more.
It's a packed podcast, mostly filled with fun and salty borderline rants about the topics at hand.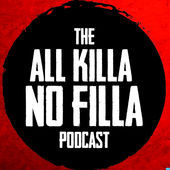 A comedy podcast with a sole focus on serial killers? Welcome to the world of micro-podcasting, where there's literally something for everyone. The hosts of All Killa No Filla seem unlikely: They're a pair of British comedians, Rachel Fairburn and Kiri Pritchard-McLean. And each episode focuses on the exploits of a given serial killer. (Sadly, in today's society, it seems they'll not be running out of material for their show anytime soon.)
The episode I caught looks at the exploits of Pedro Alonso Lopez, who is reputed to have raped and murdered several HUNDRED victims, the majority of them girls between eight and twelve years old. The murders took place in Colombia, Ecuador and Peru in the 1970s.
This is not a show for the faint of ears, as some of the recounting of Lopez's crimes are chilling and horrific.
How do the crimes of "The Monster of the Andes", as Lopez became known, and the other serial killers the show feature into a comedy podcast? You definitely have hear Fairburn and Pritchard-McLean to understand how they can simultaneously revile the criminals and honor the victims, all the while finding elements of the life of someone like Lopez that they can make light of, all while cracking themselves up.
Hopefully this unique approach won't blow back on the hosts -- after all, Lopez was released from a psychiatric hospital in 1998 on good behavior and is still at large to this day.
Podcasts I'm also listening to this week: Bananaland -- Epi24: Greatest Hits, Vol. 1, and Wasted Advice -- Epi6: Creepy Bosses, Manscaping & Condom Use
The I Am Rapaport, All Killa No Filla reviews and other podcasts mentioned originally posted as part of This Week In Comedy Podcasts on Splitsider.com.
Marc Hershon is the host and executive producer of Succotash, The Comedy Podcast Podcast, featuring clips from comedy podcasts from across the Internet as well as interviews with podcasters, comedians, and assorted show biz folk.