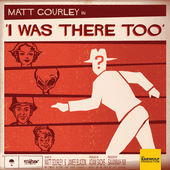 I Was There Too
Beverly Hills Cop and Willow
with Rick Overton
One of the tricks to a listenable podcast is for it to either have or be a hook that keeps being interesting. Matt Gorley has that built in, with a format that focuses on talking to actors who had small roles in memorable movies -- and it doesn't matter if those folks went on to have memorable careers or left the business altogether.
The latest edition of I was There Too is no exception. Guest Rick Overton, in addition to being an enduring standup comedian -- he's been performing since 1973 -- and an actor who consistently works (with recent guest turns on HBO's Veep and the upcoming I'm Dying Up Here), was there, too.
He was there when Eddie Murphy crashed a customs warehouse in Beverly Hills Cop and he was there when Val Kilmer was a swashbuckling ruffian hero in Willow. (Well, he wasn't REALLY there -- he and fellow comedian Kevin Pollak played 7-inch high blue-screened brownies who never actually interacted with the rest of the cast...)
Gorley, clearly a geek for the tales his guests tell, pumps Overton for details about how he got cast in the roles -- his working friendship with Murphy in the comedy scene helped to get him in front of BHC director Martin Brest.
Gorley also uses the opportunity to get his guest to talk about a couple of the movies he's shown up in, such as the ill-fated Million Dollar Mystery and getting punched in the head by Rutger Hauer in Blind Fury.
Maybe he can have Overton back to chat about Groundhog Day and Eight Legged Freaks...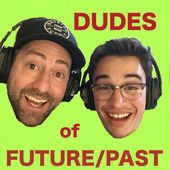 Dudes of Future Past
Epi8: The Future/Past of Samm Levine
While there are Baby Boomers who are into podcasting, it's really a medium that spans Gen X and the Millennials best. Those two demographics are represented by the two hosts of Dudes of Future/Past.
Kurt Long and Joey Bragg are not only comedians at both ends of that spectrum, but they also appear in Disney Channel's Liv & Maddie (although neither is Liv nor Maddie.) Despite the 23 years gap in their ages, Long and Bragg have become friends, bonding through their connection to standup comedy. That same generation gap helps to sustain the dynamic tension of their on-mic relationship, which shows itself in some playful prodding at those things that one or the other doesn't quite understand -- blossoming technology in the case of Long, and the level-headedness that comes with experience in Bragg's case.
Enter into this back-and-forth their second-ever guest Samm Levine, comic, actor (Freaks & Geeks, Inglorious Basterds), and podcaster (Kevin Pollak's Chat Show). He falls, generationally, in between the co-hosts but outstrips both in terms of occupational experience.
Using Levine's IMDB page as an interview springboard, Levine's visit makes for a lively conversation. There's a lot of love for Judd Apatow's cult darling Freaks (Levine declares that the show will never stage a reunion show, ala Fuller House). And his introduction to Quentin Tarantino, with subsequent casting in Inglorious Basterds as Pfc. Hirschberg is a rollicking tale.
With only eight episodes under their belts, it will be interesting to see how the two hosts settle into their roles as they work to keep themselves at arms' length, generationally speaking.
In addition to his weekly contributions to This Week In Comedy Podcasts for Splitsider.com, Marc Hershon is the host and executive producer of Succotash, The Comedy Soundcast Soundcast, featuring clips from comedy soundcasts (nee podcasts) from across the Internet as well as interviews with podcasters, comedians, and assorted show biz folk.
Calling all HuffPost superfans!
Sign up for membership to become a founding member and help shape HuffPost's next chapter