First came the podcasts. Then came the podcast networks: Gimlet, WolfPop, SexPot Comedy. The list keeps growing -- mishmashed collectives of hard-scrabble podcasts -- mostly comedy-oriented but beginning to spread to other genres.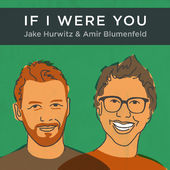 The latest groupage to splashdown in Podcast Bay is HeadGum, currently sporting 11 shows with more on the way. The brainiacs behind it? Jake Hurwitz and Amir Blumenfeld, who came together both working for the CollegeHumor website in the mid-aughts, well-known for their exploits as Jake & Amir, and having created their own humor-based advice podcast, If I Were You, in May of 2013.
The first half of the show they sort of offer advice to each other, based on their personal exploits, but its mostly chatting the shat. Then they get down to what counts as business for them: Answering questions that come in from listeners.
In this recent episode, the guys mostly talk about the launch of Headgum and what led to it, as well as the simultaneous shooting of a pilot for TV show that may or may not becoming to a Netflix near you. The listener questions seem to mostly be coming in from horny young men, asking for advice on how best to score with women.
For all their laughing and scratching, the two hosts clearly have some kind of business sense about them, or at least enough gravitational pull to drag 10 other podcasts into their immediate orbit.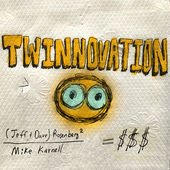 One of the other new podcasts on the new HeadGum podcast network is Twinnovation, the first comedy podcast devoted to scams and screwloose business ideas. The host is Mike Karnell, along with identical twins Dave and Jeff Rosenberg, the trio all being alumni of CollegeHumor, just like their HeadGum network chiefs Jake and Amir.
In the first half of the show, the Rosenbergs pitch a couple of self-admittedly lame, improvised business ideas to Mike and each other, including a line of pre-chewed food, "because you get tired chewing all that food yourself." Planned delectables include pre-chewed steak with Chimmy Chewy Sauce, and other vomit-inducing morsels. Jeff comes up with a line of t-shirts with removable pockets, which you can change out rather than bothering to change (and wash) the shirt as often as you probably should.
The guys go round robin deciding whether they'd back, buy, or reject the inventions. After that, the listener suggestions come in and, by comparison, most make the brainfarts of the hosts sound more like winning breakthroughs one might see on SharkTank.
With the exception, perhaps, of ILikeItRuff, an app that acts as a kind of Tinder for dogs. Okay, never mind. That one's pretty bad, too.
Then the guys round out the show with crazy schemes and scams that could make savvy listeners a ton of money...or a long stretch in the pen. Like forming ecstasy into lookalike Claritin-shaped pills, placing them into the over-the-counter drug's foil pack, and selling them at destination weddings because "TSA's not going to check every pack of Claritin."
The ideas may all be pretty bad, but the one thing they luckily have going for them is that the explaining of them is pretty damn funny.
The If I Were You, Twinnovations reviews and other podcasts mentioned originally posted as part of This Week In Comedy Podcasts on Splitsider.com.
Marc Hershon is the host and executive producer of Succotash, The Comedy Podcast Podcast, featuring clips from comedy podcasts from across the Internet as well as interviews with podcasters, comedians, and assorted show biz folk.
Calling all HuffPost superfans!
Sign up for membership to become a founding member and help shape HuffPost's next chapter