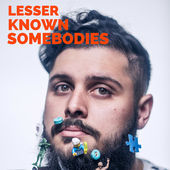 Lesser Known Somebodies
Guest: Alfred Adriaan
Podcasting remains an ever-amazing medium. In all of my years of listening to terrestrial radio, I've never listened to a broadcast out of South Africa. But this week I enjoyed Lesser Known Somebodies, an interview show hosted by Johannesburg-based comedian Simmi Areff. Currently on a self-imposed "sabbatical" from performing, Areff nonetheless seems quite plugged in when it comes to the local scene, especially as he trades quips, barbs and chat with fellow comic Alfred Adriaan.
It's fascinating to hear about South Africa's swiftly growing comedy landscape, which really only sprang up following the collapse of Apartheid. (Case in point, it spawned the host and guest's contemporary Trevor Noah, host of Comedy Central's The Daily Show.)
Adriaan is a former marketing executive who transitioned into doing comedy in his late 20's (he's 34 now) and he explains that his swift rise in the Joburg scene is largely a result of his applying his marketing savvy to his own career. "It's all about creating as many touchpoints as you can to reach the largest audience," he explains.
The two debate the pros and cons of the local Comics' Choice Awards (Areff is decidedly against, while Areff believes they can help a fledgling career.) And they struggle with finding a balance between doing club dates and what seems to be an amazingly brisk "corporate comedy" business.
I really enjoyed this glimpse into how a scene I'm very familiar with in the US operates half a world away.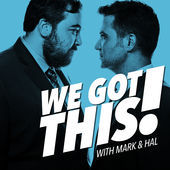 We Got This
Epi78: Clean Slate III with Wil Wheaton
Most weeks that We Got This drops, co-hosts Hal Lublin and Mark Gagliardi (both alumni of The Thrilling Adventure Hour) cover the two or more sides of a single topic, such as Best Utensil: Fork or Spoon? They examine the topic from as many angles as they can and then make a declaration, which then stands as the definitive answer for "the people of Earth."
Every 25 episodes or so, however, they gather together a bunch of listener-suggested topics that are deemed unworthy of an entire episode and settle them in a rapidfire approach, declaring each to be "Asked and answered!"
For their latest go-round, they've invited Wil Wheaton to join them, which is fairly ausicious considering this summer marks the 30th anniversary of the release of Stand By Me, the Rob Reiner-directed film that brought Wheaton to our attention. (Since then, of course, he's appeared in other films, not to mention TV series Star Trek: The Next Generation and The Big Bang Theory, playing himself.)
We Got This is always a lively interchange but Wheaton's enthusiasm amps this installment of the show to a high level of excitability, whether the topic is about theme park etiquette or deciding which is better: bison or buffalo.
In addition to his weekly contributions to This Week In Comedy Podcasts for Splitsider.com, Marc Hershon is the host and executive producer of Succotash, The Comedy Podcast Podcast, featuring clips from comedy podcasts from across the Internet as well as interviews with podcasters, comedians, and assorted show biz folk.
REAL LIFE. REAL NEWS. REAL VOICES.
Help us tell more of the stories that matter from voices that too often remain unheard.