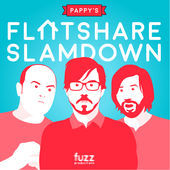 Britain continues to put out many topflight podcasts and, among them, a number of highly entertaining panel shows. The cast of England's sketch comedy group Pappy (Ben Clark, Matthew Crosby and Tom Parry) heads up Pappy's Flatshare Showdown, which takes place in their fictitious shared flat and involves "tenants" Tom and Ben alternately squaring off against and teaming up in games with different guest comedians each episode.
This go-round features guests Matt Forde and Marcel Lucont and the core of the episode is found in the title: "Flatpack Furniture". (Unfamiliar with the term flatpack? It's that stuff you put together with an Allen wrench, glue and a lot of swearing, most often supplied by Ikea.)
The games take place in rounds and are the most unique collection of improvised nonsense since Whose Line Is It Anyway. One of the competitions features the cast having to improvise songs about specific pieces of furniture, done to the tune of well-known Rat Pack songs -- like the ode to a wardrobe done to "Fly Me To The Moon".
Points are awarded seemingly on a whim by the show's "landlord", Matthew, and the live audience not only infuses the show with energy, but they can't help themselves from shouting out answers during question-based rounds of the show. (Unlike Doug Loves Movies, where the audience is admonished for shouting out, in the Flatshare Showdown they actually get awarded points.)
Pappy's is a monthly podcast, released the first day of each month, so jump on board before the next one drops.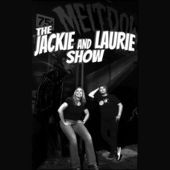 Jackie Kashian and Laurie Kilmartin both have their own podcasts (The Dork Forest and Kitchen Mic, respectively) but now these two powerhouses of comedy have teamed up to create The Jackie And Laurie Show.
It's a two-hander podcast featuring the two comedians, no guests, focusing on the topics of women and comedy. Sometimes it's mostly about women and sometimes it's about the world of comedy but mostly it's about women IN comedy.
As it happens, that's often not a pretty place -- there are plenty of stories about creepy dudes both in and out of the comedy scene and how the two hosts have run afoul of them. And there are anecdotes aplenty about hell gigs and college shows and the life of not having bookings in between.
In this installment, "This Doesn't Hike", there's reminiscing about the weirdness of going back to one's alma mater to do a comedy show. And the two hosts also marvel at the balls of a female producer who is doing an show where the publicity doesn't try to capitalize on the fact it's an all-woman bill -- even the poster for the gig only uses the comedians' last names.
Jackie & Laurie is refreshing as hell to listen to and it's great to hear a couple of hosts that have been through the wringer on separate but similar journeys, only to survive, look back and (mostly) laugh about their experiences.
If you're listening for the definitive roasting of the film Batman v Superman: Dawn of Justice, listen no further that the most recent installment of Comedy Film Nerds.
This long-running podcast staple (hosts Chris Mancini and Graham Elwood are also co-founders of the Los Angeles Podcast Festival, now in its fifth year), unlike many shows that cap on pop culture movies, is actually helmed by guys that know what make movies tick, as do many of their guests.
Filmmakers Jay Lender and Micah Wright are aboard to talk about their first film, new horror-comedy They're Watching, and then they gleefully take part in helping to kick apart BvS.
The quartet does their best to do so without spoilers, but if you haven't seen the movie yet, listening to this episode of CFN isn't going to help you enjoy it when you do.
It's hard to argue with the many points they bring up, especially when it gets into the deeper elements of how the films' writers and director Zack Snyder have screwed with the central characters' essential DNA -- the things that served to make the superheroes decades'-old icons in the first place.
The show also talks about what new movies are looking good in theaters as well as recent DVD releases you should check out. (Side note: Mancini and Elwood are producers of Ear Buds: A Podcast Documentary. It's been making the film festival rounds and is must-see viewing for anyone who's a fan of podcasting, comedy or otherwise.)
The Pappy's, Jackie & Laurie, Comedy Film Nerds reviews and other podcasts mentioned originally posted as part of This Week In Comedy Podcasts on Splitsider.com.
Marc Hershon is the host and executive producer of Succotash, The Comedy Podcast Podcast, featuring clips from comedy podcasts from across the Internet as well as interviews with podcasters, comedians, and assorted show biz folk.
Calling all HuffPost superfans!
Sign up for membership to become a founding member and help shape HuffPost's next chapter