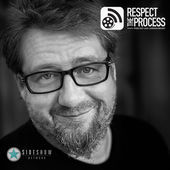 Even though Respect The Process is a podcast primarily aimed at the world of making commercials, hosted by Jordan Brady, a renowned commercial director, it can't help but be funny.
Brady is a former standup comedian -- still practicing, as seen in his 2013 documentary I Am Road Comic -- and his recent guest, Wayne Federman, a national headliner who, not coincidentally, starred in the aforementioned film. (In the early days of their comedy careers, Brady and Federman used to tour together.) Federman also co-hosts the Human Conversation podcast.
Federman is on the show to talk specifically about How To Book National Commercials, and they talk a bit about the tricks and tips he's used to land spots such as the TV commercial for Geico Insurance in which he's playing poker with Kenny Rogers.
Many of Federman's commercial appearances can be seen on his self-posted five-minute "mega-reel":
Because of the focus of this podcast, there also tends to be a bit of tech talk. In this particular case, most of it revolves around the various apps that Federman learned to use while producing his recent comedy release, The Chronicles of Federman. Many of the comedy tracks ­ which span his 30-year career, had to be resuscitated from old VHS tapes and other ancient recording media, so he and Brady spend time on how that was accomplished.
But the majority of the show is spent on laughs, with Federman wryly picking apart Brady's interview style, and both gentlemen pushing each other's buttons as only two guys that have known each other for a couple and a half decades can do.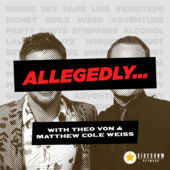 How to do the interview format differently -- the holy grail of the modern talk show -- is tackled uniquely by comedian Theo Von and filmmaker/journalist Matthew Cole Weiss on their Allegedly podcast. It turns the chat show into more of a game show.
TV and film star Jerry O'Connell joins this week, where he has to judge which host has the best opening story (Von wins with his tale of finding a stash of porn mags while burying a dead dog as a boy) before sharing his own anecdote about palling around with Stand By Me co-star Keifer Sutherland.
The co-hosts then pelt O'Connell with a variety of questions, after which he's asked to declare whether Von or Weiss asked the best questions. This episode is rife with tangents, as O'Connell led the way in driving the conversation far afield, including the revelation that he and wife Rebecca Romijn run a "passing gas" open household and a more sobering account of growing up with his family in a Chelsea District apartment, where he had to watch many gay neighbors fall victim to the outbreak of AIDS in the early 80's.
O'Connell also talks frankly about the difficulty of maintaining a Hollywood acting career from one project to the next, while raising a family and coordinating schedules with a spouse who is also in show biz.
Insofar as which of the hosts "win" this episode, no spoilers other than to say the victor this time is a first time winner.
The Respect The Process, Allegedly reviews and other podcasts mentioned originally posted as part of This Week In Comedy Podcasts on Splitsider.com.
Marc Hershon is the host and executive producer of Succotash, The Comedy Podcast Podcast, featuring clips from comedy podcasts from across the Internet as well as interviews with podcasters, comedians, and assorted show biz folk.
Calling all HuffPost superfans!
Sign up for membership to become a founding member and help shape HuffPost's next chapter