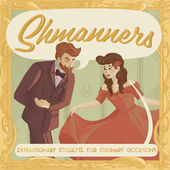 At this point the McElroy brood has kicked off so many podcasts featuring family members that I'm beginning to think that they put the Mc in Maximum Fun, the podcast network into which they've swarmed. It all started with My Brother, My Brother and Me and has grown from there.
One of the brothers, Travis McElroy, has now teamed up with his wife Teresa to hit the podwaves with Shmanners, which focuses on all things etiquette.
In their second installment (the first episode focused on thank you notes), this branch of the McElroy family explores the arcane history and mystery behind table manners. For the most part, at least in this arena, Travis comes off as a bit of a clueless doofus who used to eat like a starving dog (until he was patiently trained by Teresa), while his better half is steeped in knowledge about seating arrangements, meal courses, and which utensil goes with which dish.
Did you know, for instance, that in a gentler age of dining whichever direction the hostess chose to conduct dinnertime conversation directed the rest of the table to follow suit?
The McElroys dip into the rich background from which a lot of our modern table rules sprang, and they also do their best to reconcile how modern day diners are supposed to behave. Travis and Teresa have an easy and naturally funny repartee.
And I learned a lot I didn't know -- like how the napkin at a place setting goes to the left rather than under the forks, and how the sharp edge of the knife should face your plate rather than the diner next to you.
One thing they didn't cover was: What's the deal with texting at the dinner table?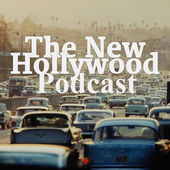 It's turned into "a thing." Brian Flaherty, host of The New Hollywood podcast, has had several guests now who do double duty by creating a second persona that Flaherty interviews and releases as a separate "special" episode. So his guest this week -- Matt Jones, best recognized as Badger on TV's Breaking Bad -- appeared last week as Lex Burlington, self-proclaimed "Coke Dealer to the Stars" in the 70s.
Burlington reminisces about providing blow to the stars and directors of some of the biggest movies of the decade, like Taxi Driver. Lo and behold, he'll still hook you up today if you're in need.
As himself, Jones relates how he signed with a newbie manager and the first job she lined him up with was Breaking Bad. Nowadays, people are seeing him opposite Anna Faris on CBS' comedy Mom. But, back in the day, you could have seen him around town doing improv with LA Comedy Sports and other groups four or five days a week.
He did so much improv that, in spending three years in the Second City overseas revue Boom!, he permanently blew out his voice, whch is why he sports his trademark hoarse tone now.
Jones is completely forthcoming in this chat with Flaherty, pushing through the exhaustion of being a new dad, and clearly revels in the experience of being one of those decade-in-the-making overnight successes.
So double down with The New Hollywood and enjoy Lex Burlington and Matt Jones back-to-back.
The Shmanners, The New Hollywood reviews and other podcasts mentioned originally posted as part of This Week In Comedy Podcasts on Splitsider.com.
Marc Hershon is the host and executive producer of Succotash, The Comedy Podcast Podcast, featuring clips from comedy podcasts from across the Internet as well as interviews with podcasters, comedians, and assorted show biz folk.
Calling all HuffPost superfans!
Sign up for membership to become a founding member and help shape HuffPost's next chapter